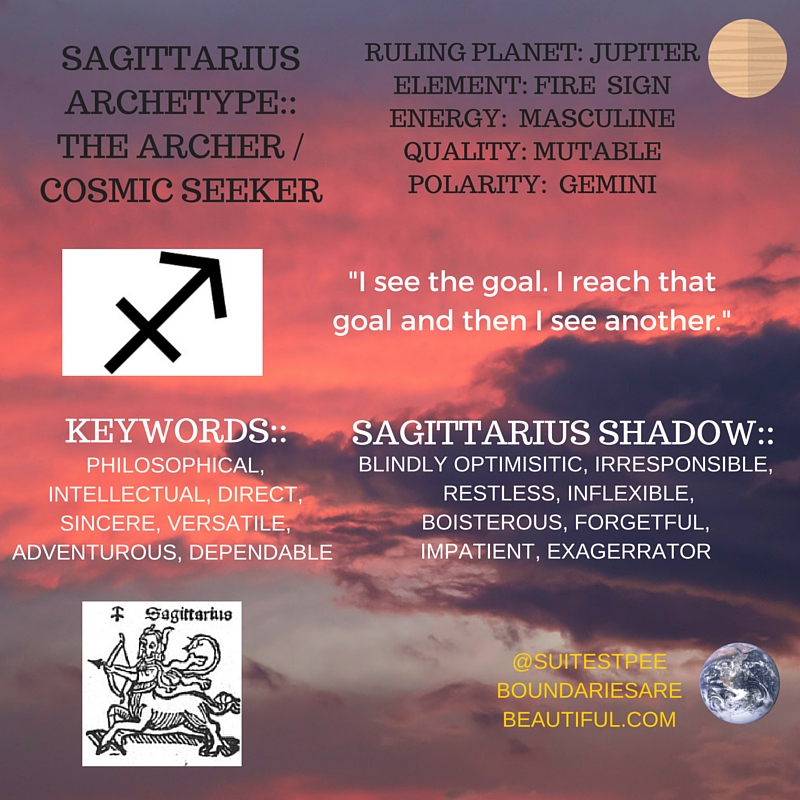 07 Dec

WHO IS SAGITTARIUS? EXPLORE THE ARCHETYPE OF THE COSMIC SEEKER WITHIN! THE FIRE OF THE SOUL IGNITES

SAGITTARIUS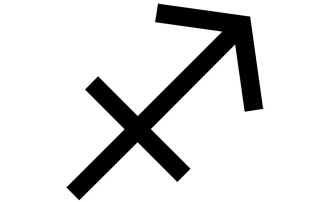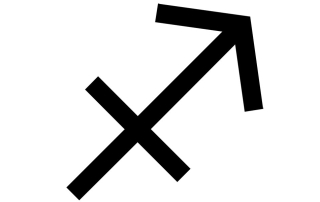 ____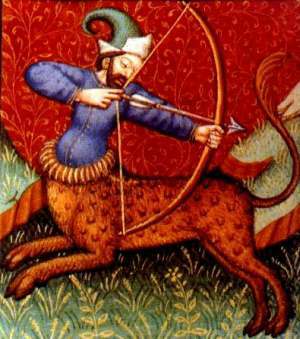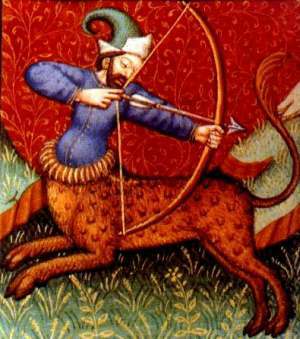 ____
____
 "I see the goal. I reach that goal and then I see another."
May these words carry meaning to the heart and mind of the disciple.
***
"It is said that Sagittarius governs human evolution, for the sun was in this sign when the Hierarchy began its Approach in order to stimulate the forms of life upon our planet.
Under Sagittarius influence, the ordinary person begins to demonstrate the tendency to become more focused, and the fluidity and relative negativity of Piscean energies become concentrated on the attainment of that which is desired. The person demonstrates one-pointed selfish instincts and though they may be, for instance, friendly and kind, it is through a desire for popularity. This is a good expression of the individual Sagittarian subject and shows also the tendency of the soul to turn all evil eventually into good. The lessons of life are being learned, and experimentation is going on.
***
 As more lives are experienced on the great wheel of incarnation, Sagittarius becomes the sign of the one-pointed disciple. The life of fluid response to matter becomes a focused response to spirit and preparation for initiation in Capricorn. The arrow of the mind is projected unerringly towards the goal."
VIA: SOULEDOUT.ORG // CLICK HERE TO READ MORE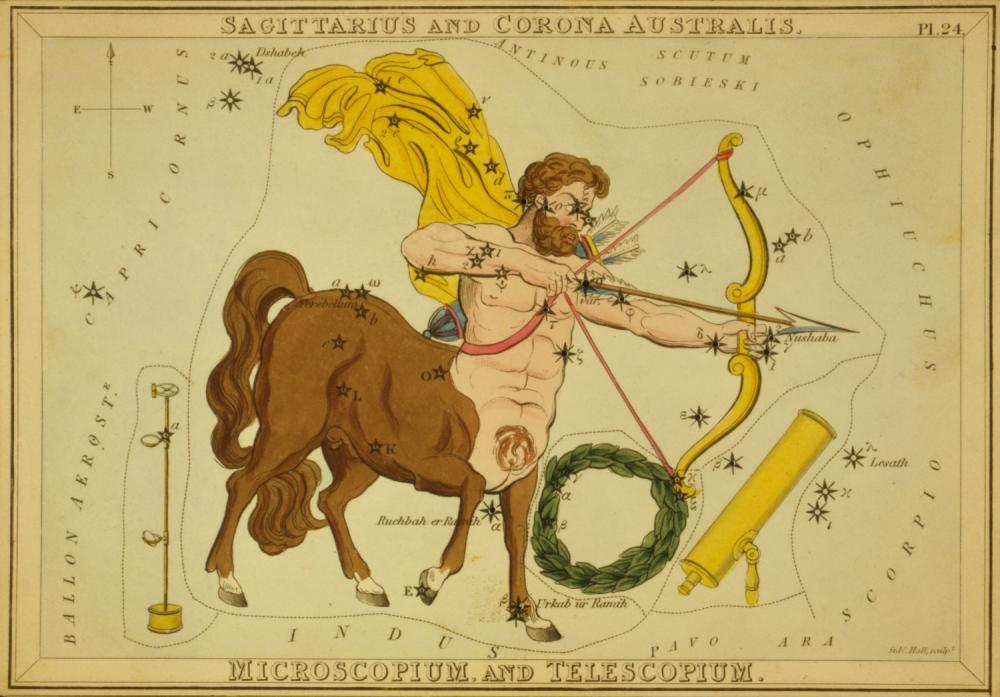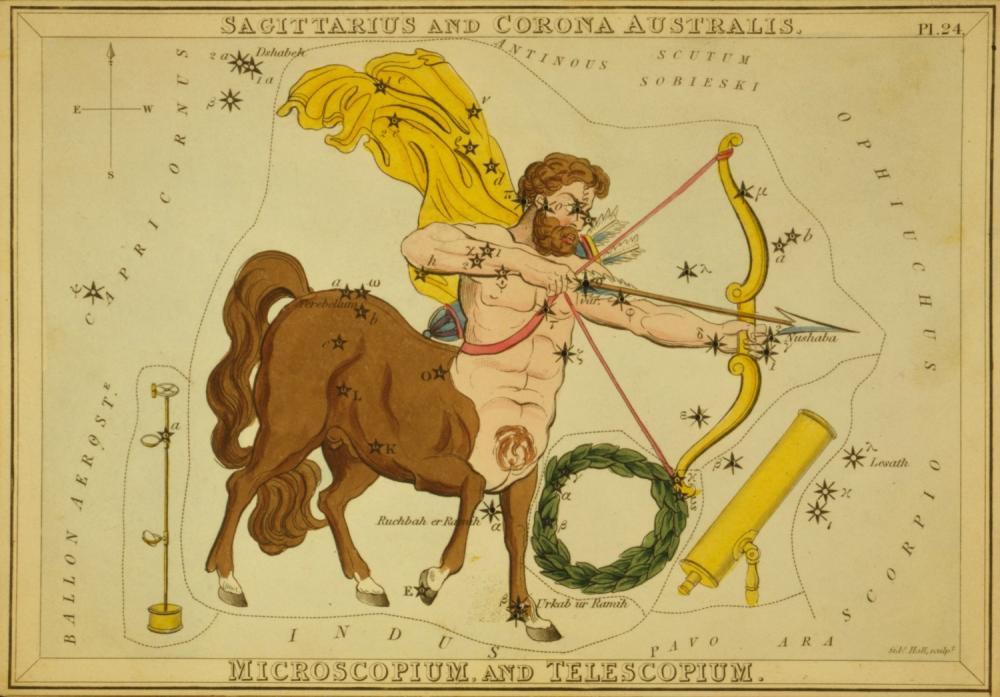 "Positive ways that Sagittarius helps us in our life journey is by instilling within us a friendly approach to others, being honest and straightforward in our interactions and, while remaining extremely independent, to be loyal and just in most relationships. Exhibiting a subtle humor, Sagittarius helps us to be generous and magnanimous while developing a humanitarian orientation. It influences us to seek personal freedom and not be fenced in by others attitudes and opinions. It helps us seek to put things in working order and focus on helping the greater sphere of society.
***
This can culminate in us being able to "addressing the needs of the time and the needs of the community" by willingly "sacrificing anything personal for the good of the community." Being truthful, above board and known to keep promises as part of seeking to be a part of a greater whole, we can become known for our Right Actions, dedicated to make the world a better place by helping to "unite Man with a larger philosophy."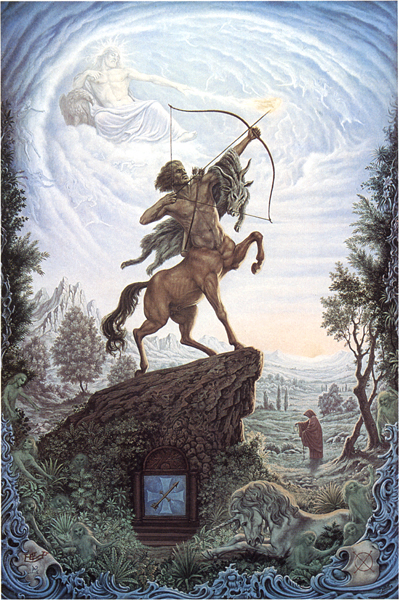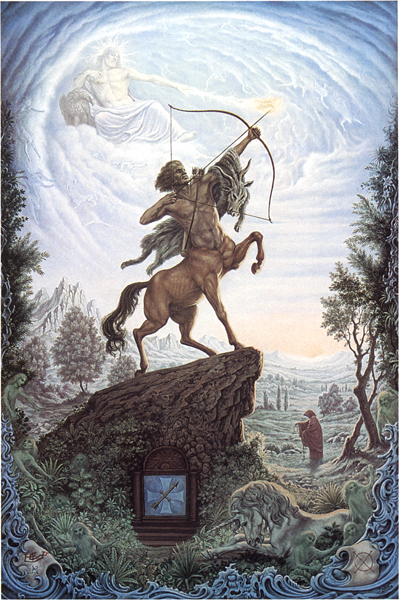 "Sagittarius is the centaur, half-man half beast, his hooves planted firmly in the earth, his sagitta pointed heavenwards. The arrow symbolizes Sagittarius' attempt to master his lower nature and become identified with his higher self. Sagittarians are the truth-seekers of the zodiac, sometimes disregarding the feelings of those around them in their compulsive search for truth. Freedom is also their goal, for like the horse they love to travel and don't want to be fenced in. Sagittarius is a mutable fire sign, ruling the liver, hips and thighs in the human body; its keyword is "I perceive." Sagittarians are friendly, extroverted, gregarious, love sports and gambling, and are the priests, philosophers, story tellers, teachers, salesmen and con-men of the zodiac. There are two types of Sagittarians: one is focused on spiritual or religious concerns, understanding, the higher mind and abundance; the other is more identified with his equine nature, travels physically rather than mentally or inwardly, tends to waste and extravagance as opposed to material abundance, and is a wanderer and dilettante. These are all attributes of the ninth house of which Sagittarius, being the ninth sign, is the natural ruler."
VIA: MY ASTROLOGY BOOK
ARTIST: JOHFRA BOSSCHART
 ___
 
CLICK >> MY NEW MOON IN SAGITTARIUS FLOW
CLICK >> WELCOME SAGITTARIUS SEASON : THE FIRE OF THE SOUL IGNITES
____
NOTICE THE SHIFT EACH MONTH AS THE MOON MAKES HER WAY FROM THE SIGN OF SCORPIO…
LEAVING HEAVY ROOT & SEXUAL ENERGIES INTO THE EXPANSIVE VISTA OF SAGITTARIUS …
IS LIKE BREATHING FRESH AIR AFTER BEING SUBMERGED UNDERWATER & FLAMES.

THE ARROW RELEASE FROM THE DEPTHS OF SCORPIO'S EMOTIONAL OCEAN WAVES.
REMEMBER: LUNA TRANSITS EACH ZODIAC SIGN EVERY 2.5 DAYS.
EVERY SIGN LIGHTS UP WITHIN THE HEART OF MAN.
OUR INTUITION & HEART CORE IS DIRECTLY LINKED TO EVERY STAR AND EVERY PLANET …
AS ABOVE | SO BELOW.
IT IS UNDENIABLE.
YOU ARE SO MUCH MORE THAN YOUR SUN SIGN
AKA WHAT SIGN THE SUN WAS IN WHEN YOU WERE BORN.
YOU ARE A LIVING STAR & YOU HOLD THE ENERGIES OF ALL SIGNS & ALL PLANETS
& ALL LIFE IN THIS UNIVERSE WITHIN YOUR HUMAN BODY.
THE LUNAR CYCLE ENERGY DANCE IS THE REAL NEWS DAY TO DAY.
THE ENERGIES ABOUND CAN BECOME OUR GOOD FRIENDS.
EMBRACE & JOIN THE DANCE!
OR RESIST & CONTINUE TO THINK THINGS ARE "JUST HAPPENING TO YOU".
EVERYTHING IS PURPOSEFUL & ON TIME.
ALWAYS. IN ALL WAYS.
YOU CAN LEARN TO GIVE YOUR OWN LIFE MEANING.
HONOR YOUR SAGITTARIUS MOON WITHIN.
____
"When the Moon is in Sagittarius, we emerge from clandestine soul searching of Moon in Scorpio, to roam the world go roaming. This lunar mood is adventurous, active and restless to experience life first hand. It puts us in a risk-taking mood. You want to get outdoors, ride your bike, take a brisk walk or ride horses.
There's a need to be in motion, and you get restless if you're bogged down with mundane chores.
The Moon relates to instinct, and the Archer inspires a hunger for fresh experiences. It's time to be on the go!"


LEARN MORE ABOUT THE POWER OF THE MOON! TEACH YOURSELF NEW THINGS!
EXPLORE MY LUNAR MAGICK RESOURCE BLOGS // KNOWLEDGE IS FREE!::

INTRO TO LUNAR POWER & OUR EMOTIONAL CONNECTION

LEARN ABOUT YOUR MOON SIGN, NEW & FULL MOON MAGICK, RITUAL & MANTRA!

ASTROLOGICAL MOON PHASES :: EXPLORE THE LUNAR CYCLE THROUGH THE ZODIAC


BECOME YOUR OWN COSMIC SEEKER!
WE ARE AWAKENING AS SPIRIT IN BODY & THE MOON IS OUR GREATEST ALLY!
AS ABOVE SO BELOW! 

____
____
AT EARTHSKY.ORG
____
CHOOSE TO EXPLORE YOUR INNER SAGITTARIUS ENERGY!
REMEMBER! EVERY ONE FEELS UNIVERSAL SOURCE ENERGY IN DIFFERENT WAYS!
EVERY ONE HAS A DIFFERENT MODE OF ABSORPTION & SELF EXPRESSION!
SAGITTARIAN ENERGY IS ALIVE & LIVES INSIDE US ALL
FEEL THE SOUL RESONANCE FROM DEEP WITHIN YOUR HEART CORE AS YOU PERUSE THE TEACHINGS
FEEL YOUR INNER SAGITTARIUS RISE INTO ACTION
WHAT DOES SAGITTARIUS MEAN TO YOU?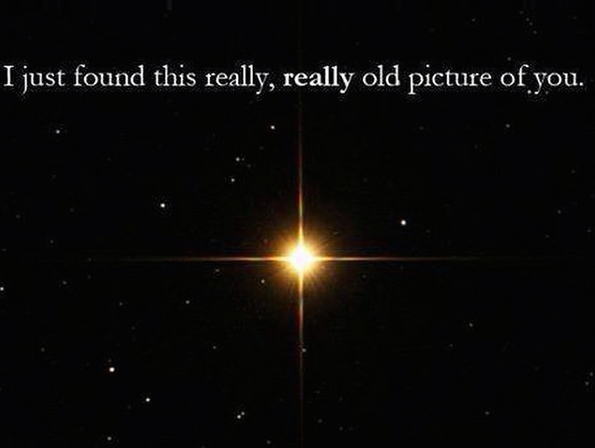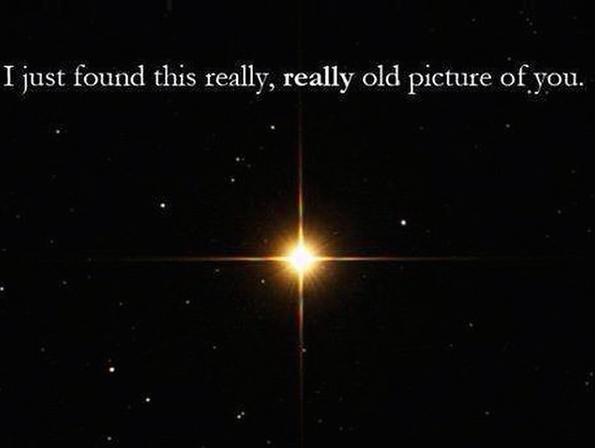 "When we come to Sagittarius, we find that the esoteric ruler of this sign is the Earth. Sagittarius is no longer ruled by Jupiter's idealism and lack of responsibility. The purpose of a soul-centered Sagittarian is to become the one-pointed disciple on the Path and to keep the Centaur's arrow steadily pointed at the goal of the soul. The Path for all of us is an earthly one.
We give ourselves to the earth and serve her humanity through one field of service or another."
ALAN OKEN ~ PLANETARY CONSCIOUSNESS
 ___
___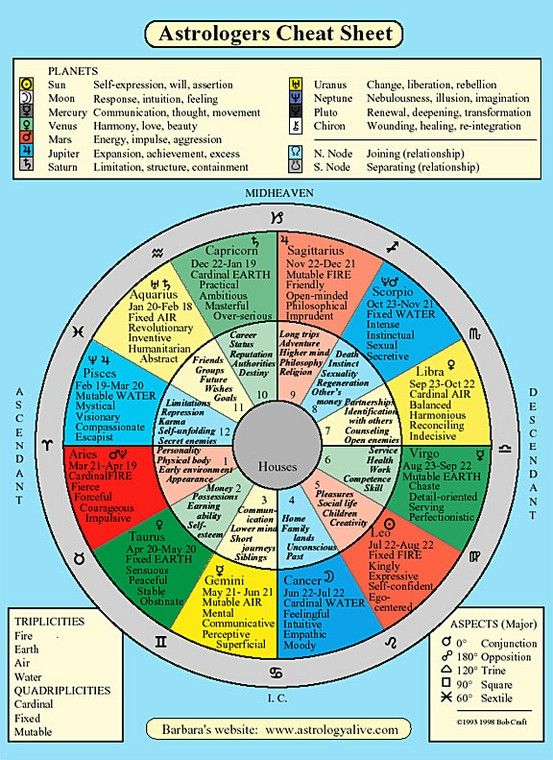 CLICK>>SAGITTARIUS RULES THE 9TH HOUSE IN ASTROLOGY
CLICK>>Zodiac Sign Sagittarius : The Why and the Wherefore
IN POST ART:
+
 +
SAGITTARIUS CONSTELLATION IMAGE COURTESY OF OLD BOOK ART IMAGE GALLERY
____
©Tessa Ridley/Self Care is Sacred. All Rights Reserved. 2018.
THIS BLOG HAS BEEN LOVINGLY CURATED BY Tessa Ridley
All work/words that are not my own have been quoted and referenced and linked back their source with utmost respect for their authors. If you are the author/artist & there is any content or are any images that are featured here that you do not want displayed please email me & I will promptly remove them.
* Terms and Conditions: Please note that none of the information presented within these blogs & guidance sessions is meant to replace advice from a medical, healthcare, legal and/or other professional. How you choose to act upon the advice given is entirely based on your own free will. You may use this information for educational and non-commercial reasons, in parts, or in entirety with full credit given to the authors as noted and links to her webpage (WWW.BOUNDARIESAREBEAUTIFUL.COM). The author shall not be held liable from any intentional, accidental or other consequences of acting upon, sharing, or engaging with this information in any form. Using, reading or in any way engaging with any part of this information implies tacit acceptance of these Terms and Conditions.