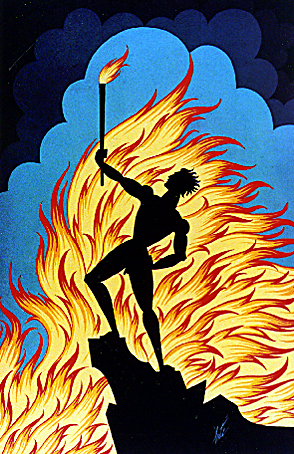 23 Jul

THE REVOLUTION OF CONSCIOUSNESS By: Marianne Williamson
"Our deepest fear is not that we are inadequate. Our deepest fear is that we are powerful beyond measure. It is our light, not our darkness that most frightens us. We ask ourselves, 'Who am I to be brilliant, gorgeous, talented, fabulous?' Actually, who are you not to be? You are a child of God. Your playing small does not serve the world. There is nothing enlightened about shrinking so that other people won't feel insecure around you. We are all meant to shine, as children do. We were born to make manifest the glory of God that is within us. It's not just in some of us; it's in everyone. And as we let our own light shine, we unconsciously give other people permission to do the same. As we are liberated from our own fear, our presence automatically liberates others."

― Marianne Williamson, A Return to Love: Reflections on the Principles of "A Course in Miracles"
____
____
 ____
"There is a revolution occurring in the world today, but it is not fought with armies and it does not aim to kill. It is a revolution of consciousness. This revolution is to the 21st century what the Scientific Revolution was to the 20th. The Scientific Revolution revealed objective, discernable laws of external phenomena and applied those laws to the material world. The Consciousness Revolution reveals objective, discernable laws of internal phenomena and applies them to the world as well. The Scientific Revolution improved the state of humanity in many ways, but it also fostered a worldview neither ultimately helpful nor deeply humane. That worldview is mechanistic and rationalistic, without the slightest bow to the primacy of consciousness. Yet consciousness supplies moral vision and ethical purpose, without which all the science in the world won't keep us from destroying ourselves or the planet on which we live. Gone with irony and deep sigh any lingering hope that science will cure all the ills of the world. Certainly science has improved and continues to improve the world in significant, even stunning ways. But despite all its amazing gifts, science cannot give us what we most need now. It cannot save us from ourselves. Science can lead to the cure of a physical ailment, but it is not just a physical ailment that needs healing. Humanity's core problem is not material but spiritual. It is our insanity — our inhumanity toward each other — from which we need to be delivered, in order to save us from the self-destruction on which we seem so bent. Science itself is placed at the behest of human purposes. It can be used for good and it can be used for evil. Of itself, it is neutral and thus amoral. It should not therefore be our god. It's time to end our strict obeisance to its dictates that the laws of the material world are fixed and unalterable, unchanged by the powers of consciousness.
The old Newtonian model of world as machine has in fact given way to the realization that the universe is not a big machine, so much as it is, in the words of British physicist James Jeans, "a big thought." Science itself has begun to recognize the power of the mind, but not so a lot of the world it has mesmerized over the last hundred years. We need to heal our thinking, in order to heal our world. The Law of Cause and Effect holds true on every level of reality. Thought is the level of Cause and material manifestation is the level of Effect. Change only on the level of effect is not fundamental change it at all, yet change on the level of cause changes everything. That is why a revolution in consciousness is our greatest hope for the future of the world.
What is the Revolution of Consciousness, in a nutshell? Like all great movements in human history, it is based on a single insight: in this case, that we are not separate from one another. We are not material beings limited to the physical body, but beings of consciousness limited by nothing. Like waves in the ocean or sunbeams to the sun, there is actually nowhere where one of us stops and another one starts. On the level of bodies, we're all separate of course. But on the level of consciousness, we are one. What that means, of course, is that what I do to you, I do to myself. That makes the Golden Rule very, very good advice. Do unto others what you would have others do unto you — because they will, or someone else will. In the words of Martin Luther King, Jr., "We are caught in an inescapable network of mutuality, tied in a single garment of destiny. Whatever affects one, affects all indirectly." That understanding is not metaphor or symbol; it's a description of an ultimate Reality shoved from our awareness by an obsolete scientific worldview. To reclaim that understanding is not blind but visionary. King was not just a movement leader but also a spiritual one, proclaiming that the human condition would not fundamentally change until our hearts were changed. Until that change occurs within us, every time we cut off the head of a monster three more will take its place. Anything we do to anyone else will ultimately come back at us, whether as individuals or as nations. Once we know that, we cannot un-know it. It changes everything, including our hearts.
How can we not change how we see each other, once we realize that we are each other? In the words of President John F. Kennedy, "Those who make peaceful evolution impossible make violent revolution inevitable." The revolution of consciousness paves the way for the peaceful evolution of the human race. The alternative to that evolution is catastrophic and impenetrable darkness. Any species, if its behavior becomes maladaptive for its own survival, either mutates or goes extinct. What arrogance it would be to believe that that applies to every species but our own. In fact, humanity's behavior is in fact maladaptive for our own survival: we fight too much with too many weapons of mass destruction existing on the planet, and are actively destroying our own habitat. Our choice is clear: we will either mutate or we will die.
The mind does not want to hear this, but the heart rejoices in it. The dictates of science aren't so sure about it, but the dictates of consciousness are clear. Humanity doesn't need to make another machine; it needs to make another choice. We need to consider the possibility of another way, another option, another path for the human race to follow…one in which we do not bow before the laws of science, but rather bow before the laws of love. The mind will no longer be our master, but our servant. Science will no longer be a false god, but a truer help. And humanity will evolve, peace at last will come to earth, and war will be no more."
Marianne Williamson |  CLICK HERE TO READ THE ORIGINAL ARTICLE
∞ ∞ ∞
"The Art of Aligning Body & Soul"
By: Marianne Williamson
____
"Love is what we are born with. Fear is what we learn. The spiritual journey is the unlearning of fear and prejudices and the acceptance of love back in our hearts. Love is the essential reality and our purpose on earth. To be consciously aware of it, to experience love in ourselves and others, is the meaning of life. Meaning does not lie in things. Meaning lies in us."
― Marianne Williamson
 LIVING OUR DHARMA <> STEPPING UP OUR GAME
____
"On Women and Religion"
____
"It takes courage…to endure the sharp pains of self discovery rather than choose to take the dull pain of unconsciousness that would last the rest of our lives."
― Marianne Williamson, A Return to Love: Reflections on the Principles of "A Course in Miracles"
____
Self Care / Self Help / Self Inquiry is FREE.
∞ ∞ ∞
EXPLORE YOUR EGO // MENTAL SELF AWARENESS IS YOUR BIRTHRIGHT
∞ ∞ ∞
WHO ARE YOU REALLY? ARE YOU BEING CONTROLLED THE LIAR IN YOUR HEAD
∞ ∞ ∞
EXPLORE THE POWER OF YOUR HUMAN VOICE WITH MANTRA PRACTICE
∞ ∞ ∞
DIVINE FEMININE RISING IN ALL HUMYNS >> THE FUTURE OF OUR SPECIES & PLANET
____________
TITLE FIRE IMAGE:
____
©Tessa Ridley/Self Care is Sacred. All Rights Reserved. 2018.
THIS BLOG HAS BEEN LOVINGLY CURATED BY Tessa Ridley
All work/words that are not my own have been quoted and referenced and linked back their source with utmost respect for their authors. If you are the author/artist & there is any content or are any images that are featured here that you do not want displayed please email me & I will promptly remove them.
* Terms and Conditions: Please note that none of the information presented within these blogs & guidance sessions is meant to replace advice from a medical, healthcare, legal and/or other professional. How you choose to act upon the advice given is entirely based on your own free will. You may use this information for educational and non-commercial reasons, in parts, or in entirety with full credit given to the authors as noted and links to her webpage (WWW.BOUNDARIESAREBEAUTIFUL.COM). The author shall not be held liable from any intentional, accidental or other consequences of acting upon, sharing, or engaging with this information in any form. Using, reading or in any way engaging with any part of this information implies tacit acceptance of these Terms and Conditions.