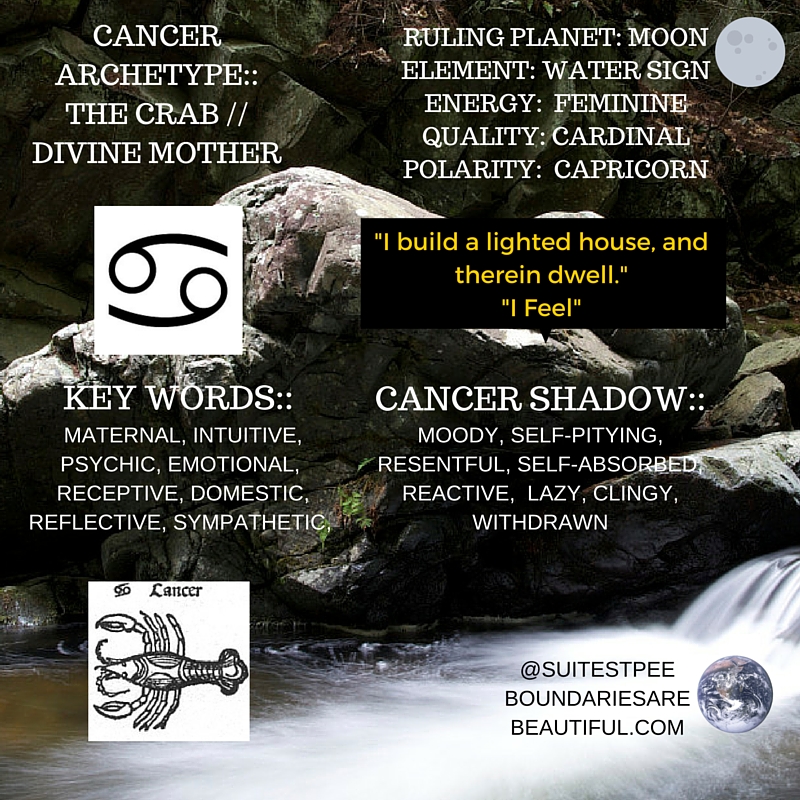 20 Feb

WHO IS CANCER? EXPLORE THE ARCHETYPE OF THE DIVINE MOTHER / CHILD POLARITY WITHIN!
SUMMER SOLSTICE = CANCER SEASON —
BECOME THE MOTHER OF YOUR SOUL'S EVOLUTION
BLESSED BE!
CUE THE OCEAN OF TEARS & STRONG EMOTIONS!
LEARN TO TAKE CARE OF YOUR INNER CHILD
WITH THE HELP OF CANCER ENERGY!
BECOME YOUR OWN MOTHER!
CLICK > http://www.myastrologybook.com/Johfra-Bosschart-Cancer.htm
▪▪▪
CLICK HERE TO LEARN MORE ABOUT EMOTIONAL WOUND HEALING
CLICK HERE TO LEARN MORE ABOUT PARENTAL / ANCESTRAL PAIN INHERITANCE
▪▪▪

⭐WE ARE ALL WOMBMAN.
BORN OF THE WOMB.
ANCIENT WATER MEAT BODIES THAT ARE DIVINELY LINKED TO THE STARS ABOVE.
THE MOON IS OUR CLOSEST PLANETARY ALLY & GOVERNS OUR EMOTIONS & PSYCHE.
THE SUN IS OUR INNER MOTIVATION FOR EXISTENCE. THE LIGHT OF ALL.
⭐WHEN YOU LEARN TO FOLLOW THE SUN'S PROCESSION THROUGH THE ZODIAC AKA "THE WHEEL OF THE YEAR" & THE LUNAR CYCLE, TRUE ONENESS TO THE UNIVERSE IS REVEALED.
AS ABOVE / SO BELOW.
AS WITHIN / SO WITHOUT.
▪▪▪
▪▪▪
⭐GET TO KNOW ♋YOUR INNER CANCER ENERGY!

WHEN THE SUN ENTERS THE SIGN OF CANCER IT IS OFFICIALLY SUMMER SOLSTICE.
SUMMER IN THE NORTH.
WINTER IN THE SOUTH.
THE SACRED GEOMETRY OF LIFE UNFOLDS.
***

CANCER STIRS UP OUR NEED FOR NURTURING & CONNECTION.
FOR TAKING CARE OF OUR INNER CHILD &
FOCUSING ON SELF CARE SO AS NOT TO BE TRIGGERED BY OUR UNHEALED EMOTIONAL WOUNDING.
♋CANCER IS A DEEP OCEAN TO CROSS.
YOU MAY FALL DEEPLY IN LOVE YOURSELF DURING THIS ONCE A YEAR SOLAR TRANSIT…
OR FALL APART & WITHDRAW FROM THE EVOLUTION THAT AWAITS YOU.
THIS IS YOUR CHOICE! KNOW THAT YOU HAVE A CHOICE!
BLESSED CANCER SEASON  TO ALL.
BLESSED BE THE GODDESS MOTHER THAT DWELLS WITHIN THE SOUL OF THE COLLECTIVE BODY/MIND.
⭐MAY WE ALL RISE INTO OUR KNOWING OF THE TRUTH OF WHO WE REALLY ARE A SPECIES.
ONE HUMYN ORGANISM.
ONE MIND.
ONE HEART.
ONE WITH THE INFINITE GOODNESS OF ALL.
I LOVE YOU.
XXX
TESSA
▪▪▪
EXPLORE SELF HEALING ON INSTAGRAM >>>

CLICK > #SELFCAREISSACREDEMOTIONS
▪▪▪
▪▪▪
▪▪▪
WE ARE ONE NOTE IN THE UNIVERSAL DANCE OF ALL
WE HAVE INCARNATED ON THIS EARTH AT A VERY VERY SPECIAL TIME
IN HUMAN HISTORY ~ HERSTORY ~ OURSTORY.
THE NEW EARTH IS DAWNING.
▪▪▪
▪▪▪
CLICK> https://beherenownetwork.com/category/ram-dass/
CLICK> METAMORPHOSIS IMAGE BY RAM DASS VIA HIS ICONIC  "BOOK BE HERE NOW"
The Ceremony of Original Innocence – 12 Foundation Circuits


"I build a lighted house, and therein dwell."
"In the constellation Cancer, we find a doorway into incarnation for souls to gain the experience needed for their evolution. All human lives begin here. Indeed, no soul escapes the need to incarnate. In Cancer one is bound to be limited within the form in order to learn from life's experiences. Ultimately, we must come to the realization life is beyond the form experience ~ we do not belong in the spiritual sense to the form life and eventually we orient ourselves to the life of the spirit, the real everlasting life.
The keynote of Cancer is "I Build a Lighted House and therein Dwell." Again, transcending the watery instinctual nature to be replaced by the ever increasing light of the Soul is the evolutionary goal for this sign. To break free of the protective limitation of the Crab's shell and to become the radiant, outpouring source of love and light and service is truly the highest calling for Cancer natives. And as the magnetic energies of Cancer focus and draw in all souls on their incarnational process, so too does the polar opposite of Capricorn draw in all souls on their way towards relinquishing the cycle of rebirth and through the process of initiation, ending the need to take form to evolve. To this sacred duty, Cancer plays its role."
VIA: SOULEDOUT.ORG // CLICK HERE TO READ MORE
▪▪▪
 "Metaphysically, the first birth into manifestation occurs in Cancer, with Aries, Taurus and Gemini representing purely subjective influences. Our birth from our mother is reflected in that Cancer represents our mother complex. We move from the "protective, yearning, sustaining quality" of the womb into what we hope will be a emotionally secure sympathetic environment of a nurturing family life and domestic tranquility.
This naïve expectation represents what we want and can gain from the archetype of Cancer. Cancer helps us to create roots and build emotional foundations from which to experience the outer world. The mother archetype represented by Cancer becomes the caring, cherishing and supportive center from which we can rely on as we move out to establish our own sense of self."
▪▪▪
"The Moon sets the emotional tone as it transits through the Zodiac signs. It changes signs every 2 1/2 days. You can work with this rhythm to "go with the flow" of the Moon. You can use it to know the general feeling tone to expect.
When the Moon is in Cancer, we all become homebodies. We want to retreat to the place we feel most at home. This can bring out a sense of "homesickness" if we're far from home, or estranged from others.
+++
This Moon makes us quick to tear up and have sentimental moments. We might get absorbed in memories of a long lost lover or friend. It heightens emotions, and we might experience mood swings, from dark lows to blissful highs. We are more sensitive to the moods of others."
   
REMEMBER! EVERY ONE FEELS UNIVERSAL SOURCE ENERGY IN DIFFERENT WAYS
EVERY ONE HAS A DIFFERENT MODE OF ABSORPTION & SELF EXPRESSION
THE POWERFUL DIVINE FEMININE MOTHER ENERGY OF THE SIGN OF CANCER IS IGNITED WITHIN US ALL
OUR EMOTIONS ARE AT THE FOREFRONT OF OUR COMMUNICATION DURING
CANCERIAN SOLAR & LUNAR TRANSITS
THE ILLUMINATION OF OUR DEEPEST WOUNDS ASSOCIATED WITH OUR CHILDHOOD COME FORTH TO BE RECOGNIZED / HONORED / EXPLORED WITH DEEP SELF COMPASSION FOR YOUR SOUL'S JOURNEY
FEEL THE SOUL RESONANCE FROM DEEP WITHIN YOUR HEART CORE AS YOU COME CLOSER TO YOURSELF
FEEL THE CRAB MOTHER WITHIN YOUR SOUL STIR INTO WAKING
WHAT DO YOU FEEL?
WHAT DO YOU HEAR?
WHAT IS LONGING TO BE KNOWN BY YOU, AS YOU?
I LOVE YOU!
***
***
AFFIRM YOUR LIFE ::: CLICK THE IMAGE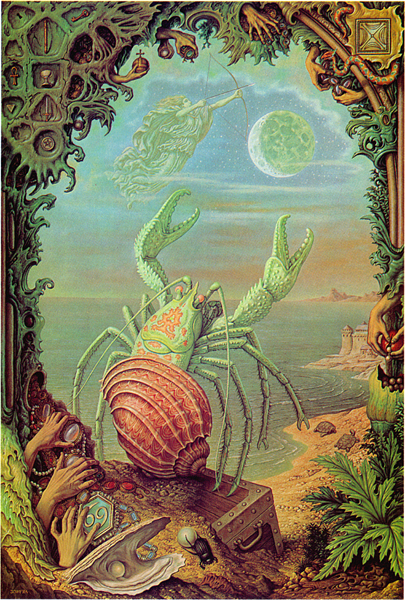 ***
©Tessa Ridley/Self Care is Sacred. All Rights Reserved. 2015-2020
THIS BLOG HAS BEEN LOVINGLY CURATED BY Tessa Ridley
All work/words that are not my own have been quoted and referenced with utmost respect for their authors. If you are the author/artist & there is any content or are any images that are featured here that you do not want displayed please email me & I will promptly remove them.
* Terms and Conditions: Please note that none of the information presented within sessions is meant to replace advice from a medical, healthcare, legal and/or other professional. How you choose to act upon the advice given is entirely based on your own free will. You may use this information for educational and non-commercial reasons, in parts, or in entirety with full credit given to the authors as noted and links to her webpage (WWW.BOUNDARIESAREBEAUTIFUL.COM). The author shall not be held liable from any intentional, accidental or other consequences of acting upon, sharing, or engaging with this information in any form. Using, reading or in any way engaging with any part of this information implies tacit acceptance of these Terms and Conditions.