07 Feb

WHAT DOES SOUL CONNECTION MEAN TO ME?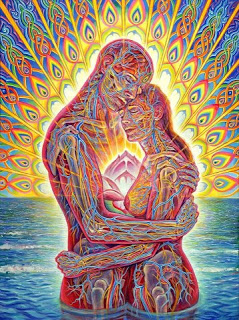 PHOTO: ALEX GREY | http://alexgrey.com
"A soul connection is a resonance between two people who respond to the essential beauty of each other's individual natures, behind their facades, and who connect on this deeper level. This kind of mutual recognition provides the catalyst for a potent alchemy. It is a sacred alliance whose purpose is to help both partners discover and realize their deepest potentials. While a heart connection lets us appreciate those we love just as they are, a soul connection opens up a further dimension — seeing and loving them for who they could be, and for who we could become under their influence. This means recognizing that we both have an important part to play in helping each other become more fully who we are…A soul connection not only inspires us to expand, but also forces us to confront whatever stands in the way of that expansion." John Welwood
"With intimate relationship there may always be ruptures which arise in the field of lovers. For when we enter into the mandala of vulnerability with another, each and every unprocessed emotion, feeling, and sensation will be there greeting us at the gates, yearning to be met, awaiting our alive presence, and longing for metabolization in our ripe bodies and hearts. Once inside, the call of the beloved arrives in a thundering silence: come closer. Undress. And come closer. Along the provocative path of intimacy yoga, it may appear as if our lover is doing something *to* us, but often all they're really doing is just being themselves. Yet somehow this is enough to unleash an avalanche of rage, fear, feelings of abandonment and dependency, a tidal wave of unresolved attachment, and an urgent, desperate longing to be seen as we are.
In the dance with the beloved, the bad news is that there is absolutely nowhere to hide. Ironically, this is the good news as well. Without warning, we find ourselves back in that very familiar place where it's… just… not… safe. We long for secure ground and reference point from which we can organize our lives, but the beloved loves us too much to offer this. And on top of it all, the superego remains nearby, reminding us: these sorts of feelings aren't very 'spiritual,' are they? Really, anger? Jealousy? Dependency? Terror? Attachment? I thought you had 'transcended' all this? What about your 'awakening?' You were enlightened, in bliss, in such peace and sooooo in love when you were on your own… weren't you? You were so incredibly safe then. Perhaps this isn't for you after all. In the wake of these inevitable ruptures – which are none other than the beloved's wild activity in disguise – love has appeared, yet again, as the ultimate curative and repair, bursting through the cracks in your heart, oozing out of your cellular tissue, and emerging in full force out of the strands of your DNA. You are being reminded of the actual role of the beloved in your life – creativity, destruction, and rewiring the entire known world.
Each rupture that appears comes pleading with you to behold the portal it is opening inside you: Come closer. Undress. And come closer. An invitation has arrived, but it has not come from any human source; it has fallen out of the stars and emerged up out of the gooey muddy earth. The beloved is at it again, using whatever form he must, to find you, to unclothe you, and to reveal the majesty and splendor that you are. She will never, ever stop looking for you, using whatever skillful means she must to reach you. Please don't miss this opportunity. But if you do, don't worry, love will come again, and again, and again, until your heart has turned to dust." -Matt Licata| http://alovinghealingspace.blogspot.ca/

"Falling apart, holding it all together. Then falling apart, then holding all together again. Cycles of integration and disintegration. Chaos and cohesion. Stillness and rest. As with the ocean, the stars, the sun, and the moon, love is pouring through you, washing away everything that is less than whole, preparing you for what is next. But what is next is always of the unknown and never understood ahead of time by means of the conceptual. Look carefully and see that you can never truly 'fall apart,' because you were never 'together' to begin with. You are the vast space in which 'together' and 'apart' dance in union in the world of time and space.
Please don't forget what you are. If you remain too identified with the falling apart, you disintegrate; you lose contact with the radiance within you, and you become misattuned to the unfolding of your somatic experience, which is the movement of pure, luminous wisdom. You forget how intelligent and how creative it is inside you, and that you are never, ever in need of fixing. You forget that the darkness, when provided sanctuary, is brighter than a thousand suns inside you. But if you remain too identified with holding it all together, you disconnect from your vulnerability, you turn from the wild reality that your heart could break at any moment. You forget that it is through your brokenness that your gifts pour into this world. You forget that each and every crack in your heart is an illumined portal through which the poetry of your life will flow.
Right in the middle of falling apart and holding it together is the secret place. Stay there. For it is there where the light and the dark are in union, where integration and disintegration emerge as one in love, and where lunar and solar weave together the particles of the sacred world."-Matt Licata| http://alovinghealingspace.blogspot.ca/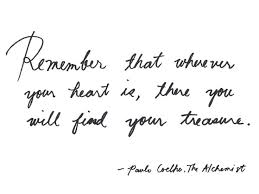 "If you love a person, you say to that person, "Look, I love you, whatever that may be. I've seen quite a bit of it and I know there's lots that I haven't seen, but still it's you and I want you to be what you want to be. And I won't be happy if I've got you in a cage. You'd be a bird without song." Alan Watts