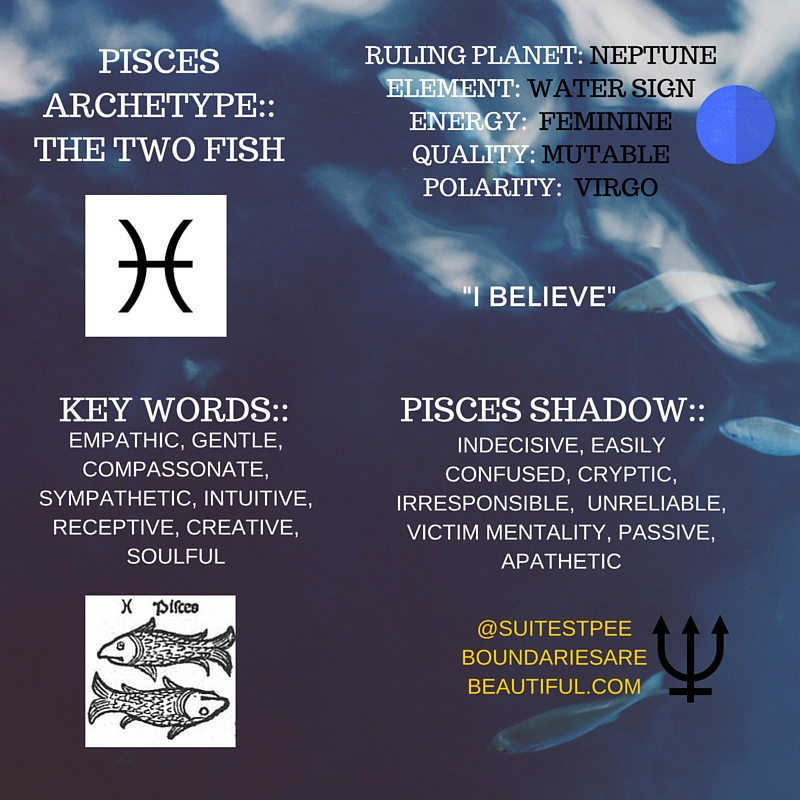 11 Sep

WHO IS PISCES? EXPLORE THE ARCHETYPE OF THE TWO FISH WITHIN!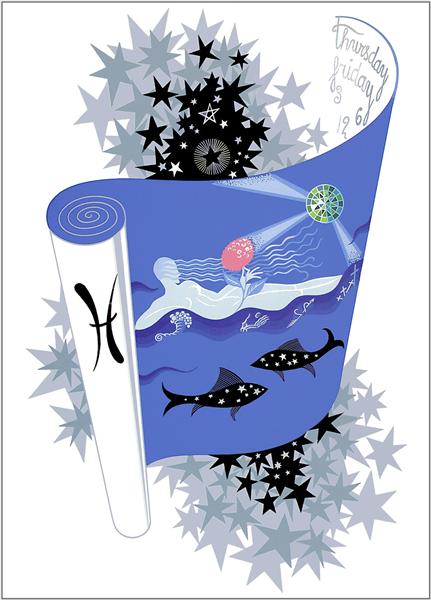 PISCES

▪▪▪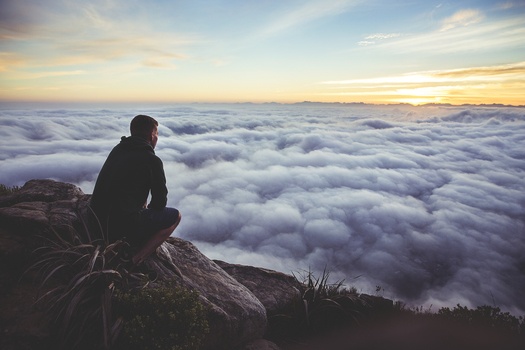 ▪▪▪
▪▪▪
▪▪▪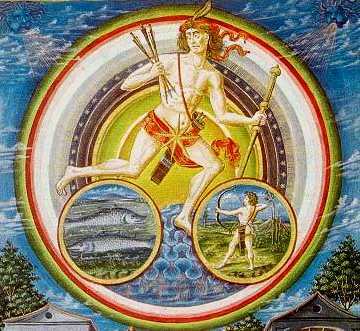 ▪▪▪
▪▪▪
Pisces
Form: "And the Word said, Go forth into matter."
Soul: "I leave my Father's house and turning back, I save."
PISCES ZODIAC DEITY
The symbol for Pisces, a water sign, is two connected fish swimming in opposite directions and linked together by a band that keeps them connected throughout the cycles of life. Bound by this silver cord, the fish swim between Spirit and Matter, between the constellations of Aries and Aquarius. One fish is heads out to the edge of the Universe, while the other to the depths of the seas. The directions the fish swim represent the path into evolution and the Path of Return. One fish represents the soul, the other the personality or form.
Three Keynotes of the Duality of Pisces
Bondage or captivity
Renunciation or detachment
Sacrifice and death
There are three cycles or sets of duality in this sign, each needing to be synthesized. In the first cycle the soul is captive in substance, descending into the ocean of matter.
***
As the polar opposite of Pisces, Virgo is one of the most significant of the signs of the zodiac for it holds the germ and ultimately represents the goal of the human evolutionary process. That goal is to reveal the veiled spiritual reality of matter. Virgo's keynote is "The Christ in you, the hope of Glory." This is the seed that lies dormant in Pisces
The fluid, sensitive Pisces temperament that is mediumistic and psychically polarized is stabilized in Virgo. The two signs balance each other as Virgo provides the impetus for mental introspection and critical analysis. Soul and form are united in Virgo. They have blended and are of great importance to one another. Virgo represents synthesis and the relation of spirit and matter after they have been brought together. The purpose for form life begins to be realized in Virgo. The seed that was hiding the spiritual reality is alive and reveals the beauty of spirit in matter. Their functions are basically interchangeable.
VIA: SOULEDOUT.ORG // CLICK HERE TO READ MORE
Credit for information and synthesis:
The collected volumes of writings by Alice A. Bailey,
specific reference here to Esoteric Astrology, p. 115–134
and The Labours of Hercules, p. 195–210
©Lucis Publishing Co., 120 Wall St., 24th Floor, New York, NY 10005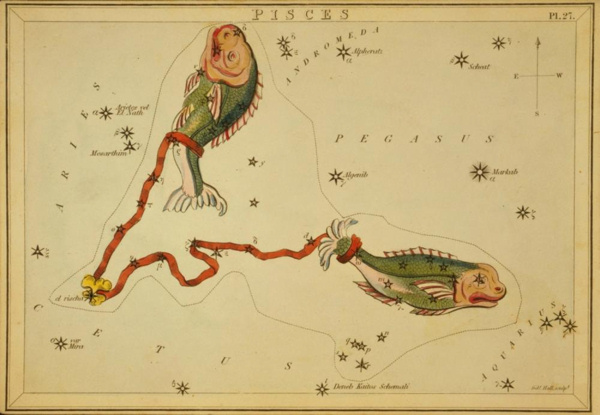 The traditional symbol for Pisces is two fish swimming in opposite directions. The glyph of Pisces is two semicircles connected by a horizontal line running through them. Each of these symbols represents the duality within us. This duality is tied together or bound together within captivity. As demonstrated through the Age of Pisces, our fully developed instinctual nature runs contrary to our spiritual nature in its infancy. The resolution of this duality becomes the resurrected and transcendent World Savior.

Mythologically, Pisces is represented by Dionysus (e.g. Bacchus). Dionysus' name is translated as "twice born," or "child of the double door." The firstborn character of Dionysus is tied to wine and inebriation; "god of emotional extremes — agony and ecstasy, suffering (Pentheus) and bliss." In the myth, Dionysus is dismembered prenatally (or in infancy) but saved to be born a second time. Ultimately, he becomes one of the sacred stars. Symbolically, he becomes the "Higher Self evolving in all the lower nature."

Psychologically, captured by our barbarian nature and robbed of our individuality, we are dissolved (dismembered) into components of the collective unconscious. Our Dionysus "expansion" is the "flood of overpowering universal feeling which bursts forth irresistibly, intoxicating the senses like the strongest wine." Resurrection comes through renunciation, redemption and compassion which releases our developing spiritual nature (universal impersonal-ness) from its bondage to the extremes of our lower nature.
***
Individualizing Our "Castle of Peace"
In Archetypes of the Zodiac, Kathleen Burt epitomizes the needs of Pisces as the "Search for the Castle of Peace." As a mutable water sign, Pisces is related to the "ocean of infinity, boundless and universal." The tendency is to lose oneself within this expanse which then leaves one without any individual identity or sense of self. Finding our Castle of Peace is how we release our self from material bondage and calm the waters that can engulf us. Peace is very fitting here in that some of its major keywords include: calm, quiet, placid, lack of conflict and lack of agitation. Isn't this the way we want to experience the boundless ocean of the infinite?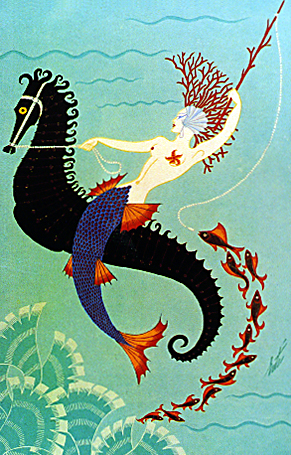 BASIC SOUL PURPOSES:  A PISCES INCARNATION is one in which she struggles with duality, especially the struggle of fusing her personality with the Soul/Higher Self.  PLUTO, as her soul level ruler, provides the necessary destruction of old forms from previous incarnations so that renewal may take place as the soul returns into a new cycle as Aries.
PISCES is both the culmination of a cycle and preparation for a new cycle on the spiritual evolutionary spiral.
          QUALITY TO OVERCOME:  Emotional ups and downs.
          LESSON TO LEARN:  The meaning of Divine Love.
          MOTIVATED BY:  A desire to escape from physical living.

Within her being, she has access to an unlimited supply of prior life talent and resources.  Meditating on the ocean is helpful in understanding PISCES.  No amount of force can hold it back; yet, it needs structures in which it can be used for practical purposes.  Planets in Aries and/or Capricorn can be of great help in structuring PISCES' self-expression during high tide.
          During low tide, PISCES needs to withdraw, to gather herself together, to rid herself of all the energies she has unconsciously soaked up in her environment.  PISCES is a very magnetic energy, which can create havoc in relationships.  Others may not want to be pulled into an ocean of emotional situations.
          PISCES is now moving toward the spiritual and attunement to higher values.  She is experimenting with the instinctual and the intuitive, the real and the ideal, and even the sacred and the profane.  Sensitivity to others takes on a much more solid grounding as PISCES develops her ability to discriminate.  She is moving into a relationship with her polarity energy—Virgo—that will eventually lead to the unfolding of true intuition, conscious self-sacrifice, and an attitude of universal service.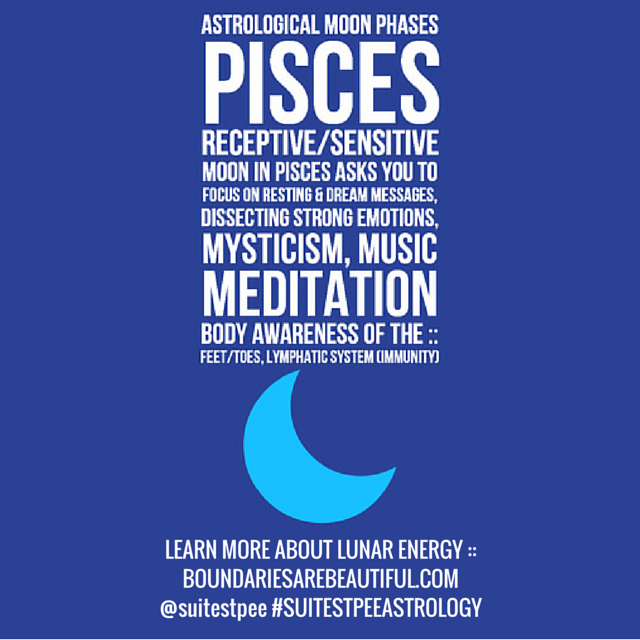 ▪▪▪
▪▪▪
▪▪▪

IN POST ART::
TITLE IMAGE PISCES & WATER/SEAHORSE ART BY Romain de Tirtoff AKA ERTE VIA: ERTE.COM
PISCES CONSTELLATION IMAGE COURTESY OF OLD BOOK ART IMAGE GALLERY

©Tessa Ridley/Self Care is Sacred. All Rights Reserved. 2015-2019.
THIS BLOG HAS BEEN LOVINGLY CURATED BY Tessa Ridley
All work/words that are not my own have been quoted and referenced and linked back their source with utmost respect for their authors. If you are the author/artist & there is any content or are any images that are featured here that you do not want displayed please email me & I will promptly remove them.
* Terms and Conditions: Please note that none of the information presented within these blogs & guidance sessions is meant to replace advice from a medical, healthcare, legal and/or other professional. How you choose to act upon the advice given is entirely based on your own free will. You may use this information for educational and non-commercial reasons, in parts, or in entirety with full credit given to the authors as noted and links to her webpage (WWW.BOUNDARIESAREBEAUTIFUL.COM). The author shall not be held liable from any intentional, accidental or other consequences of acting upon, sharing, or engaging with this information in any form. Using, reading or in any way engaging with any part of this information implies tacit acceptance of these Terms and Conditions.