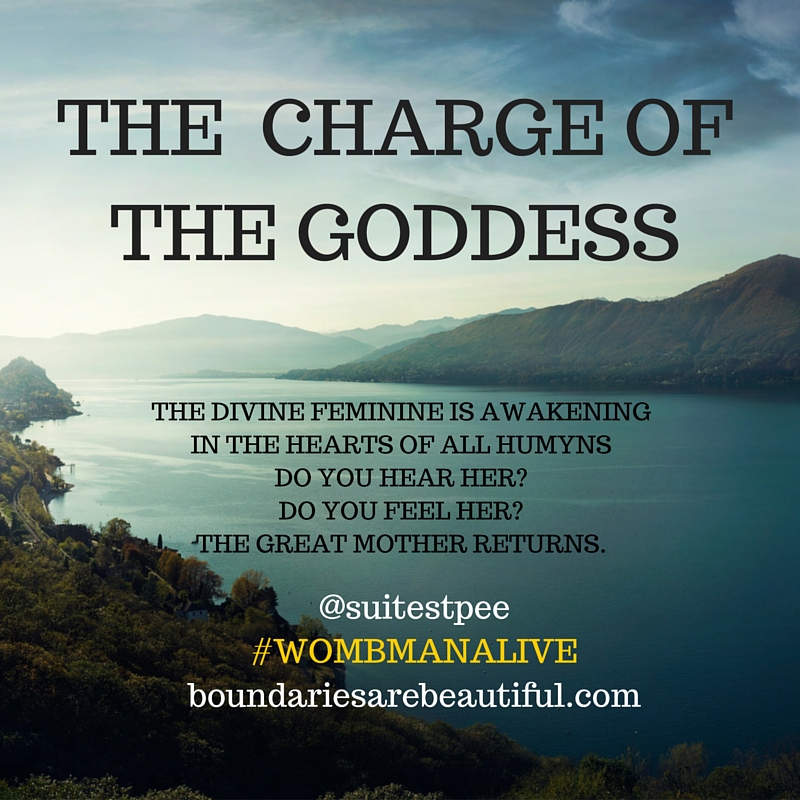 30 Apr

THE CHARGE OF THE GODDESS

"It's daylight, the sky is cloudy, and human beings believe that beyond the clouds lives an all-powerful God, guiding the fate of men. Meanwhile, look at your son, look at your feet, listen to the sounds around you: down here is the Mother, so much closer, bringing joy to children and energy to those who walk over her body. Why do people prefer to believe in something far away and forget what is there before their eyes, a true manifestation of the miracle?"

____
THE CHARGE OF THE GODDESS
Listen to the words of the Great Goddess, who throughout time has been known by many names.
Assemble in a sacred place of your own making when the Moon is full,
and any other time you have need of My aid.
Know that My love will make you free, for nobody can prevent your worship of Me in your mind and your heart.
Listen well when you worship, and I will teach you the deep mysteries, ancient and powerful.
I require no sacrifices or pain,
for I am the Mother of all things, the Creatress who made you out of My love,
and the One who endures through all time.
I am the beauty of the Earth, the green of growing things.
I am the white Moon whose light is full among the stars and soft upon the Earth.
From Me all things are born, to Me all things, in their seasons return.
Let My worship be in your hearts, for all acts of love and pleasure are My rituals.
You see Me in the love of man and woman, the love of parent and child,
the love of humans to all My creations.
When you create with your hands, I am there.
I blow the breath of life into the seeds you plant, whether of plant of child.
I stand beside you always, whispering soft words of wisdom and guidance.
You need only to listen. All seekers of the Mysteries must come to Me,
for I am the True Source, the Keeper of the Cauldron.
All who seek to know Me, know this…
All your seeking and yearning will be in vain unless you understand the Mystery that if what you seek is not found within, you will never find it without.
For behold, I have been with you from the beginning, and I will gather you to my breast at the end.
Blessed Be.
~Charge of the Goddess ||
____
THE GODDESS THROUGHOUT HERSTORY::
+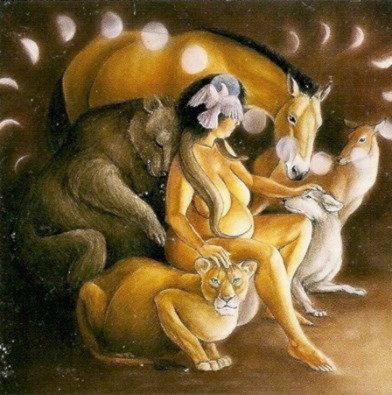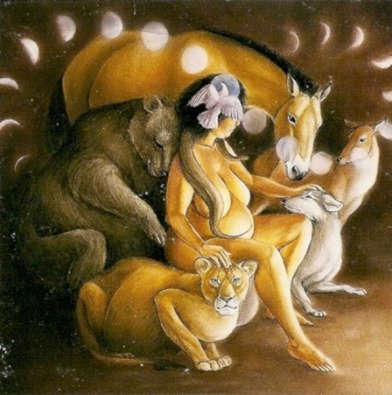 "Lady of the Beasts"
from Goddesses and Heroines
by Patricia Monaghan
"This phrase is used to describe a number of goddesses of various cultures, all of which share a similar identification with wild places and the animals that live therein. A form of the great mother goddess who births and cares for humanity, this Lady usually is found in cultures where game animals provide a significant part of the diet. Not surprisingly, she is often a goddess of birth as well, invoked for aid by human mothers, but also invoked to encourage animal reproduction. Where a culture has begun to move into agriculture, the Lady often adds rulership of vegetation to her original identity as mother of animals."
____
EXPLORE #WOMBMANALIVE ON INSTAGRAM
+
EXPLORE #WOMBMANALIVE ON FACEBOOK
____
JOIN ME ON FACEBOOK:
+
____
IN POST ART CREDITS:
 THE LADY OF BEASTS >>>
http://www.hranajanto.com/goddessgallery/lotb.html
____
©Tessa Ridley/Self Care is Sacred. All Rights Reserved. 2016.
THIS BLOG HAS BEEN LOVINGLY CURATED BY Tessa Ridley
All work/words that are not my own have been quoted and referenced and linked back their source with utmost respect for their authors. If you are the author/artist & there is any content or are any images that are featured here that you do not want displayed please email me & I will promptly remove them.
* Terms and Conditions: Please note that none of the information presented within these blogs & guidance sessions is meant to replace advice from a medical, healthcare, legal and/or other professional. How you choose to act upon the advice given is entirely based on your own free will. You may use this information for educational and non-commercial reasons, in parts, or in entirety with full credit given to the authors as noted and links to her webpage (WWW.BOUNDARIESAREBEAUTIFUL.COM). The author shall not be held liable from any intentional, accidental or other consequences of acting upon, sharing, or engaging with this information in any form. Using, reading or in any way engaging with any part of this information implies tacit acceptance of these Terms and Conditions.