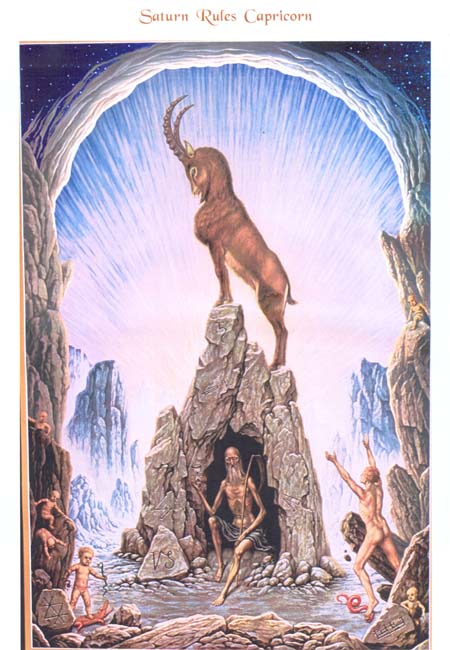 08 Jan

NEW MOON IN CAPRICORN :: GROUND YOUR SPIRIT TO EARTH! CHAMPION YOUR REBIRTH!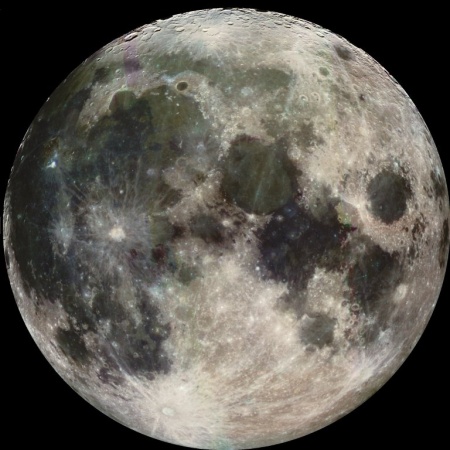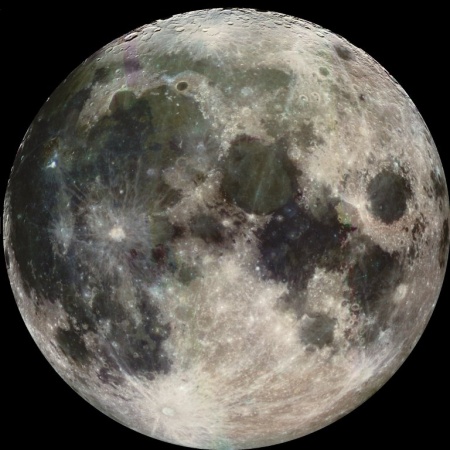 "Capricorn is the cardinal earth sign; and its keyword is "I use."
It rules the skin, bones and knees in the human body.
Humility is an important test for Capricorn, and in order to be humble the knees must bend.
      In the center of Johfra's painting we see the mountain goat at the top of the mountain. This where Capricorn wants to be, and the mountain is its social and professional world. Capricorn is the most ambitious of all the signs with a strong drive for success and social power, but it has to be concerned with stepping on others in its climb to the top. Hard workers, disciplined, persistent, materialistic, expedient and patient, they can be colder to those closer to them than to mere acquaintances. Mother, home, tradition and the past are important to this sign, and the Capricorn male is often tied to his mother even after marriage. On the top face of the mountain just underneath the goat is the symbol for Capricorn's ruling planet Saturn, the cross of matter holding down the crescent of personality." VIA: MY ASTROLOGY BOOK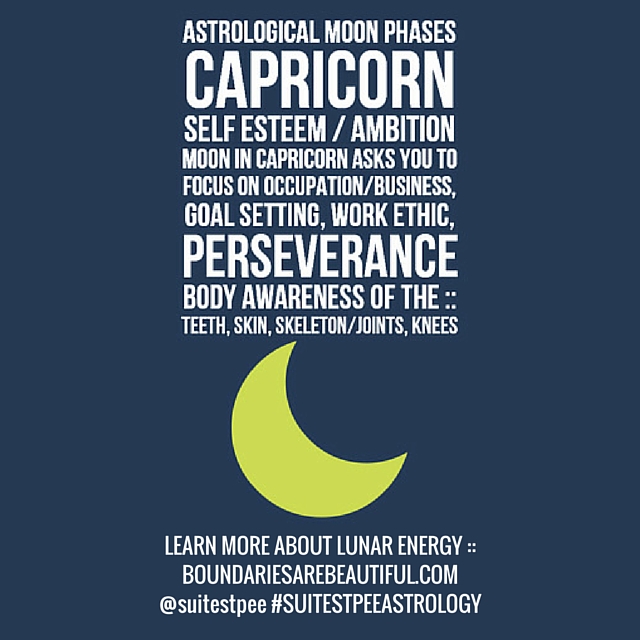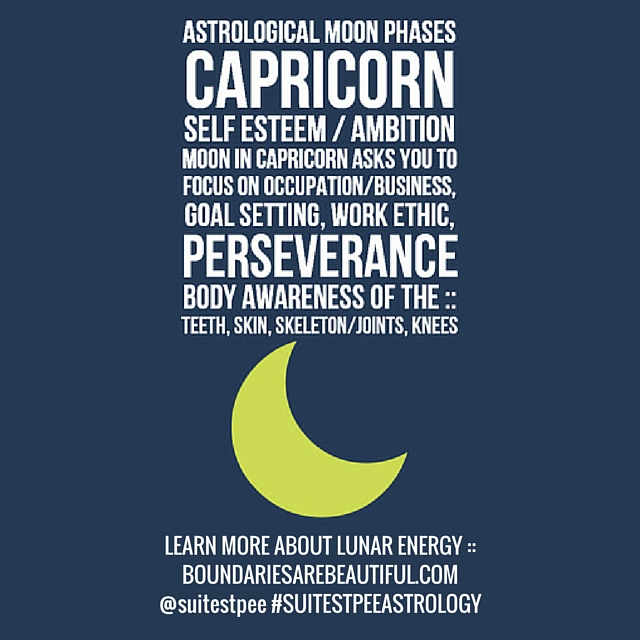 ❤️WE ARE ALL WOMBMAN.
BORN OF THE WOMB.
ANCIENT WATER BODIES THAT ARE DIVINELY LINKED TO THE STARS ABOVE.
LUNA IS OUR CLOSEST PLANETARY ALLY & RULES OUR EMOTIONS & PSYCHE.
AS THE MOON TRANSITS A DIFFERENT ZODIAC CONSTELLATION EVERY 2.5 DAYS WE ARE ALL INFUSED WITH THE ARCHETYPICAL ENERGIES OF THAT SPECIFIC SIGN. WE ARE NOT JUST OUR SUN SIGN. WE ARE SO MUCH MORE.
WHEN YOU LEARN TO FOLLOW THE LUNAR CYCLE TRUE ONENESS TO THE UNIVERSE IS REVEALED.
AS ABOVE / SO BELOW!
❤️HOW IS YOUR INNER MOUNTAIN SEA GOAT?

THE CAPRICORN MOON INFUSES A SENSE OF DUTY & AMBITIOUS EARTH BASED ENERGY INTO THE LUNAR CYCLE.
THIS FORWARD MOVING, PROGRESSIVE ENERGY FILLS US AND GUIDES US TO SEEK OUR TRUE LIFE PURPOSE.
YOUR INNER CAPRICORN KNOWS THE STEPS THAT ARE NEEDED TO DISCOVER THIS UNDERSTANDING OF YOUR HUMAN LIFE. WHERE ARE YOU HEADING? WHAT ARE YOU SEEKING? WHAT ARE YOU PASSIONATE ABOUT?
CAP ENERGY HAS YOUR BACK.
IMBALANCED CAPRICORN WITHIN WILL PLAY OUT AS LOW ENERGY / LOW ENTHUSIASM AND CAN PROJECT THE LACK OF FORWARD MOVEMENT ON SOME OUTSIDE FORCE KEEPING HIM FROM REACHING HIS GOAL.
❤️TAKE SOME TIME OVER THE NEXT FEW DAYS  TO CONNECT WITH YOUR INNER CAP & GRANDMOTHER MOON.
USE THE INFORMATION IN THIS POST TO ASSIST YOU IN CONNECTING TO YOU INNER CAPRICORN.
GROUND YOURSELF. BE HERE. ARRIVE WITHIN YOURSELF.
THE NEW MOON MARKS THE BEGINNING OF THE LUNAR CYCLE FOR THE MONTH AHEAD AND WE GET TO DANCE WITH LUNA AS SHE ROLLS THROUGH THE ZODIAC… UNTIL WE REACH CAPRICORN ONCE MORE A MONTH FROM NOW.
REMEMBER: ALL IT TAKES IS INTENTION TO CONNECT TO THE CELESTIAL GIANTS ABOVE. THEY ARE INSIDE OF US. WE ARE UNITED AS ONE WHOLE BEING. WE ARE GUIDED BY THEM DAILY.
WE ARE THE ONE-SONG. THE TRUE UNI-VERSE.

I LOVE YOU.
BLESSINGS ON YOUR NEW MOON.
TESSA XXX
???
▪️▪️▪️
▪️▪️▪️
???
<?Most people don't live aware lives. They live mechanical lives, mechanical thoughts — generally somebody else's —
mechanical emotions, mechanical actions, mechanical reactions.
?Spirituality means waking up. Most people, even though they don't know it, are asleep. They're born asleep, they live asleep, they marry in their sleep, they breed children in their sleep, they die in their sleep without ever waking up.
They never understand the loveliness and the beauty of this thing that we call human existence.
?"Understand the obstructions you are putting in the way of love, freedom, and happiness and they will drop. Turn on the light of awareness and the darkness will disappear. Happiness is not something you acquire; love is not something you produce;
love is not something you have; love is something that has you."
?Get rid of your fear of failure, your tensions about succeeding, you will be yourself. Relaxed.>
???
Follow the Moon
The Moon sets the emotional tone as it transits through the Zodiac signs. It changes signs every 2 1/2 days. You can work with this rhythm to "go with the flow" of the Moon. You can use it to know the general feeling tone to expect.
***
Digging In: When the Moon is in Capricorn, we're more serious minded. It's harder to just hang out. We want to feel productive on something that has substance to it.  Capricorn is an earth sign that means business.
With the Moon here, emotional force can be applied to whatever is in process.
These days are great for pushing past difficult obstacles. You've got extra discipline and patience. And you're able to forgo the satisfaction of short term gains for longer term achievements." LEARN MORE WITH MOLLY
???
WHAT IS A NEW MOON?
"A New Moon is a Conjunction aspect of the Sun and Moon. The Moon is not visible during a New Moon because the Sun's light overpowers it. This is also referred to as "the Dark of the Moon" because there is no Moon visible in the night sky. The New Moon ushers in new themes and cycles of activity that comes to fruition at the Full Moon (about 14 days later). The unconscious is often a bit closer to the surface during this time, so emotions can be a bit more intense than usual." WENDY GUY AT EVOLVING DOOR ASTROLOGY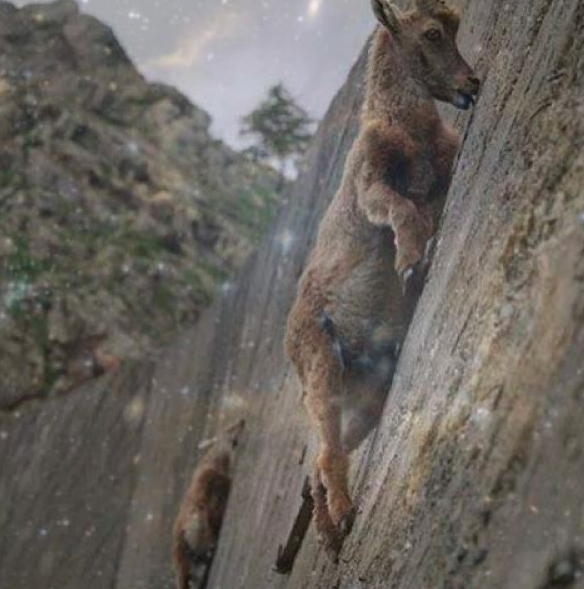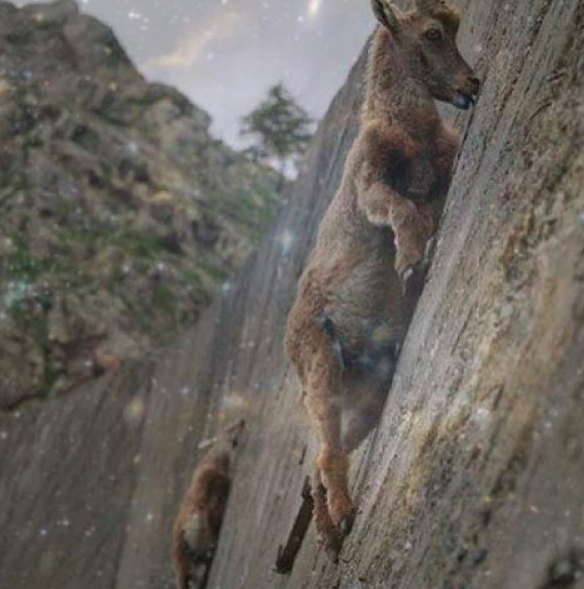 "Every sign of the Zodiac is in you. Even though you may not be a Capricorn, on the personal level you may have Capricorn ascending, OR a Capricorn Moon or Node, OR a planet/planets in Capricorn. At the very least, you'll have a House cusp or cusps in Capricorn or perhaps Capricorn intercepted in another House. Certainly Capricorn's ruler Saturn sits somewhere in your chart keeping a record of your growth and doling out awareness to life circumstances that need attention. You simply cannot avoid it. It's in there somewhere.  Why is this important? Perhaps because Capricorn is one of the most misunderstood Zodiacal energies but more importantly because it packs a spiritual wallop wherever it shows up." CAPRICORNUS ~ THE 1OTH GATE BY THE GALAXY EXPRESS

????????

LEARN MORE ABOUT THE POWER OF THE MOON! TEACH YOURSELF NEW THINGS!
EXPLORE MY LUNAR MAGICK RESOURCE BLOGS // KNOWLEDGE IS FREE!::
???

?INTRO TO LUNAR POWER & OUR EMOTIONAL CONNECTION

+

?LEARN ABOUT YOUR MOON SIGN, NEW & FULL MOON MAGICK, RITUAL & MANTRA!

+

?ASTROLOGICAL MOON PHASES :: EXPLORE THE LUNAR CYCLE THROUGH THE ZODIAC


????????

BECOME YOUR OWN COSMIC SEEKER! WE ARE AWAKENING AS SPIRIT IN BODY & THE MOON IS OUR GREATEST ALLY!
AS ABOVE SO BELOW! 
???
Moon in Capricorn | January 9 —New Moon: Beginning.
"The New Moon is a beginning—a chance to start anew. I suggest you consciously invoke this quality of a new start because the day might just feel like the same old same old. The last few days of the previous lunar cycle included moments of intensity and pressure. Mercury and Jupiter stationing retrograde created uncertainty. Transits involving Saturn and Capricorn lent a serious, perhaps pessimistic tone to the week as well. All of those influences are still present in the chart for the New Moon in Capricorn. It may feel like you've just woken up to the sober reality of the year ahead, and you have work to do. For some, this can feel exhilarating, for others, not so much. This is true of Capricorn/Saturn endeavors: at the beginning of the journey up the mountain, it can feel daunting. Yet, if we just put one foot in front of the other, at some point, we realize that we've got a new perspective. We enjoy the view from the vantage point of dogged effort. There is a reason to keep going." READ MORE
???
"2016 opens up with an in-depth astrological review thanks to Mercury's latest retrograde (not to mention Jupiter's) through Capricorn (though it began and spent 3 days in Aquarius). Capricorn is a sign known for its ability to capitalize on the reserves it can get its hands on. Capricorn wants to utilize the tools it totes and see what can be made of what it owns. Marked by the cautious constraint of its ruler, Saturn, Capricorn has a tremendous reserve of energy incubating internally. A lone wolf, Capricorn is a deeply spiritual sign with an introspective, contemplative and inner-directed temperament. Often depicted as a sea-goat, the half-fish-half-goat mascot reflects Capricorns' ability to dive deeply into their internal oceans of psychic energy as well as the ability to traverse the heights of the toughest terrains of accomplishment.
In short, Capricorn is no joke.
On January 9th at 5.30pm PST, the moon will renew itself at 19 degrees of Capricorn. Sitting next to Pluto, a planet known for its ability to take us on underworld journeys, Pallas Athene, the wisdom goddess, and Mercury, now retrograde and on its own underworld journey, this new moon is asking us to review our relationship to our inner resources. Indeed this is precisely what underworld journeys are designed to do." READ MORE
WHAT IS SPIRIT?
"We start the calendar new year in Capricorn with some pointed challenges and some strong, underlying support
and en(courage)ment.  Challenges first?
Mercury, just four days into Aquarius, turned retrograde on Tuesday, Jan. 5th until January 25 (and won't be back in Aquarius until Valentine's Day, February 14).  Retracing steps in Capricorn lends the opportunity to reassess our goals and priorities and clarify our focus.  Have we cleared necessary time and space for inviting in the new energy we want front and center in our life?  It's a retrograde time to get mentally leaner and more focused on the next round.  We're in that underground seed germination period begun at Winter Solstice.  Gather your mental resources and focus them on the vision of where you want to end up when you begin your ascendency in mid-February and beyond.  It's the perfect accompaniment to a Capricorn New Moon.  Mental Germination.
Jupiter in Virgo also turned retrograde this past week on January 7 until May 9.  Jupiter spends about a year in each sign, and after September, won't be back in Virgo for 12 years, so now is a generous opportunity to really feel into Virgo's joy of getting organized in the physical world, working on upgrading your health, disciplining the mind to be an ally by letting go of judgment and criticism, avoiding the drug of distraction that media has to offer, and developing your efficient, skillful self so we can actually manifest in the world.  Virgo is always your ally in getting it done on the physical plane.  Look inside to see what's holding you back on a practical level.  And let Jupiter broaden your knowledge and understanding and bring you discerning wisdom." READ MORE

BODY CONSCIOUSNESS WITH CAPRICORN MOON BY TANISHKA TANTRIKA
?
When the moon [is in] Capricorn so you may feel your body creaking if you haven't been looking after the structure that holds you – that being your skeletal system & joints.
Everything in the web of life is interconnected so the more we identify the patterns & symbology, the quicker we grasp our lessons & the easier life becomes.
 ?Since Capricorn rules our bones & joints & all the structures in our lives…here's a few thoughts for those who have weaknesses in these areas (often common for those with Capricorn sun, moon or rising in their natal chart.)
Those with health issues in their back, often have issues around support – which starts with identifying what they need so they can create the support systems which really respond to their needs.




Those with problem knees & ankles often fear the future so resist moving forwards, causing them to become stuck in old ways that no longer serve them.




Those with hip complaints…this can signify a fearful belief that you can't stand on your own two feet, in more ways than one.




Cappy moon asks us to get down to the bones of the matter, to the core beliefs. Then step-by-step we can strengthen what was once weak & gain increased durability, mobility & flexibility in every sense.

?Our body is a great teacher & ongoing metaphor for our life. So take note of the state of your physical structure's health as it will often reflect the state of your physical reality (such as your home, car, possessions & finances.) Blessings on your day.>
Follow TANISHKA AKA THE MOON WOMAN on Facebook
Gaia Earth Star Mercury Retrograde & Capricorn New Moon
Goddess Transmission
New Moon Deliberate Creation Meditation- Creating in you Sacred Space
Moon Phases Crash Course



▪️▪️▪️
IN POST ART::
▪️▪️▪️
©Tessa Ridley/Self Care is Sacred. All Rights Reserved. 2016.
THIS BLOG HAS BEEN LOVINGLY CURATED BY Tessa Ridley
All work/words that are not my own have been quoted and referenced and linked back their source with utmost respect for their authors. If you are the author/artist & there is any content or are any images that are featured here that you do not want displayed please email me & I will promptly remove them.
* Terms and Conditions: Please note that none of the information presented within sessions is meant to replace advice from a medical, healthcare, legal and/or other professional. How you choose to act upon the advice given is entirely based on your own free will. You may use this information for educational and non-commercial reasons, in parts, or in entirety with full credit given to the authors as noted and links to her webpage (WWW.BOUNDARIESAREBEAUTIFUL.COM). The author shall not be held liable from any intentional, accidental or other consequences of acting upon, sharing, or engaging with this information in any form. Using, reading or in any way engaging with any part of this information implies tacit acceptance of these Terms and Conditions.