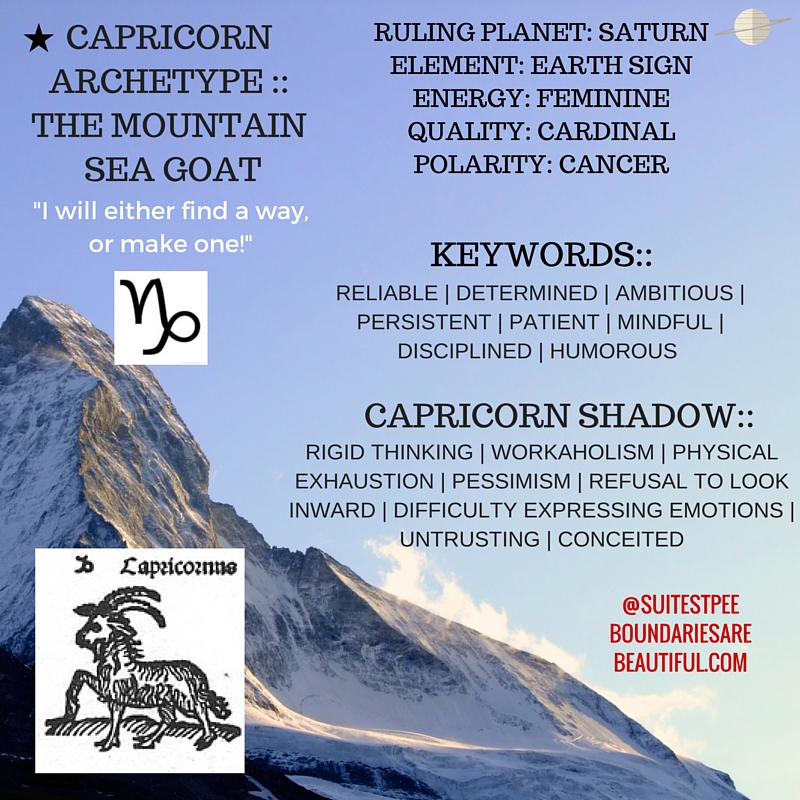 15 Jul

WHO IS CAPRICORN? EXPLORE THE ARCHETYPE OF THE MOUNTAIN SEA GOAT WITHIN!
CAPRICORN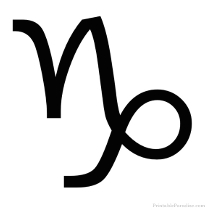 ▪️▪️▪️
▪️▪️▪️
RECLAIM YOUR BODY THROUGH THE HEALING EARTH POWER OF CAPRICORN.
FEEL YOUR BONES AND JOINTS AND TEETH AND DENSITY.
AWAKEN.
▪️▪️▪️

"I will either find a way, or make one!"
"The energies streaming forth from the constellation Capricorn express a crystallization process carrying the seeds of death, that give way to life through the initiation process. An earth sign, Capricorn produces the densest point of concrete materialization the human soul is capable of. It is the crystallization of this materialism that eventually reaches a "hardness" that shatters and is destroyed. Because of this fundamentally materialistic nature, the Capricornian eventually brings about their own destruction ~ at least of their material life ~ and awakens to the higher frequency of spirit and the nonform. Initiation is the result of this process, and the goat on the mountaintop represents this.
***
The mountaintop experience associated with Capricorn can also represent a new cycle of effort. Effort, strain, struggle, and any strenuous conditions entailed by the tests of discipleship or initiation ~ these are distinctive of experience in Capricorn. It is a sign of testing and proving oneself as Capricorn, along with Aries and Taurus, are the great transformers, acting as catalysts. Each of them opens a door into one of the three divine centres of expression symbolic of the three higher centres in humankind: the head, the heart and the throat.
***
December, or Capricorn, is also associated with the birth of the Christ in the cave of the heart (the dense point of earth, or matter). As one awakens to this point of awareness, however dimly, the initiation process has begun and will eventually culminate in the great transformative sign of Capricorn." VIA: SOULEDOUT.ORG // CLICK HERE TO READ MORE

 "Capricorn combines the earth element with the cardinal quality. Together, they make a powerful combination for success in the outer world. Capricorns archetype is that of the industrious breadwinner. Being highly determined for success, Capricorn's intent is in "finding one's own position within the greater possible whole." Focused on utilizing practical concrete and efficient methods, Capricorn provides the patience to endure restrictions, frustrations and difficulties until every obstacle is overcome and the goal is attained.
***

Embracing the Capricorn archetype in its spiritualizing affect, we can ascend to our "chosen peak with ever-increasing sureness." We can give form to the formless and attain far-reaching goals in a patient wait for redemption. The result is Initiation. Our intermittent failures lead us to ultimate success and spiritual attainment. Although the Initiatory Path of spiritualization never ends, each progressive Initiation measures our success in moving from a self-oriented human to a spiritual Being capable of great service." CLICK HERE TO READ MORE

BASIC SOUL PURPOSES: 
A CAPRICORN incarnation is one of initiation—
the "gateway through which the Accepted Disciple,
having walked the Path of life through nine tests (or zodiac signs),
is now ready to culminate her journey and ascend to the Mountaintop."
(Alan Oken)
Whereas Cancer is the "gate in,"
CAPRICORN is the "gate out" where freedom from the personality,
through successfully passing the initiatory tests, is granted. 
CAPRICORN IS THE PATHWAY TO TRANSFIGURATION.
          QUALITY TO OVERCOME:  Personal Ambition.
          LESSON TO LEARN:  Detachment to the material forms of life, so that she is left free to be the co-creator of those forms.
          MOTIVATED BY:  Expediency.
▪️▪️▪️
"In Capricorn, Saturn is also the ruler on both the personality and soul levels. Again there is a major difference in Saturn's expression. Instead of the lower Saturnian nature proclaiming: "My life is so limited!" or "I am going to control everything and everyone in sight so that I make sure I get what I want," Saturn's influence is raised up. The soul-centered Capricorn has passed through the boundaries of Saturn's rings (by first respecting them!). We no longer have a restrictive Saturn but a highly structured one. This planet then is able to give Capricorn an understanding of right responsibility and correct boundaries for the expression of the soul's life."
ALAN OKEN ~ PLANETARY CONSCIOUSNESS
▪️▪️▪️
IN POST ART::
CAPRICORNUS CONSTELLATION IMAGE COURTESY OF OLD BOOK ART IMAGE GALLERY
▪️▪️▪️
©Tessa Ridley/Self Care is Sacred. All Rights Reserved. 2019.
THIS BLOG HAS BEEN LOVINGLY CURATED BY Tessa Ridley
All work/words that are not my own have been quoted and referenced and linked back their source with utmost respect for their authors. If you are the author/artist & there is any content or are any images that are featured here that you do not want displayed please email me & I will promptly remove them.
* Terms and Conditions: Please note that none of the information presented within sessions is meant to replace advice from a medical, healthcare, legal and/or other professional. How you choose to act upon the advice given is entirely based on your own free will. You may use this information for educational and non-commercial reasons, in parts, or in entirety with full credit given to the authors as noted and links to her webpage (WWW.BOUNDARIESAREBEAUTIFUL.COM). The author shall not be held liable from any intentional, accidental or other consequences of acting upon, sharing, or engaging with this information in any form. Using, reading or in any way engaging with any part of this information implies tacit acceptance of these Terms and Conditions.