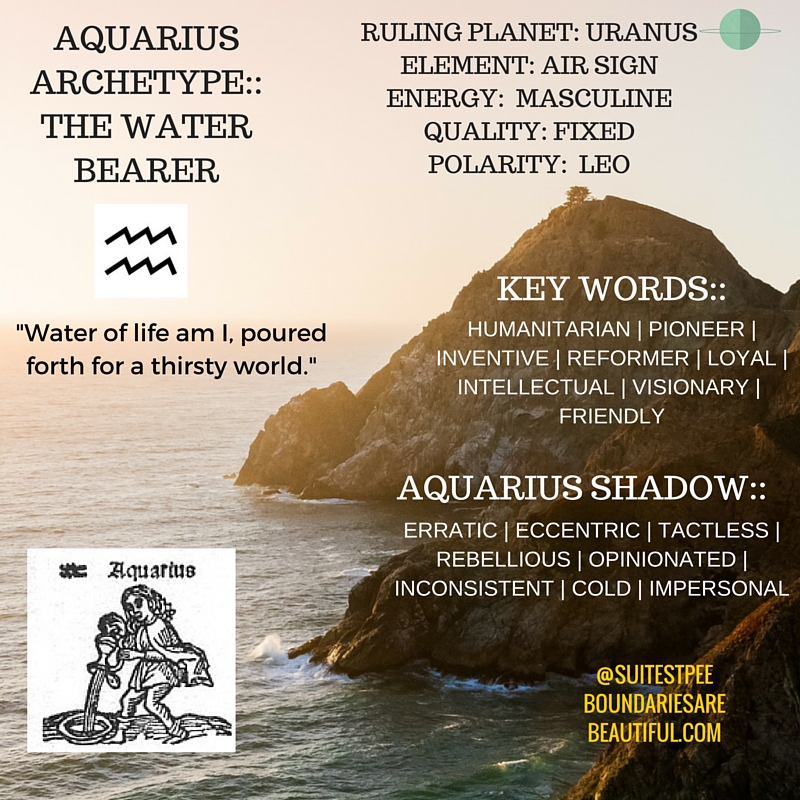 19 Jan

WHO IS AQUARIUS? EXPLORE THE ARCHETYPE OF THE WATER BEARER WITHIN!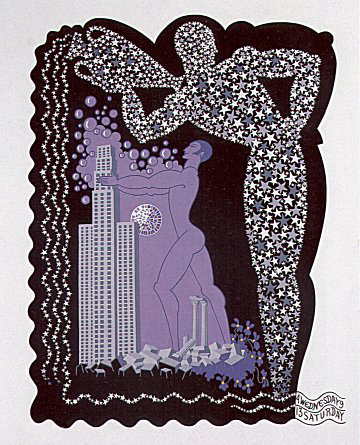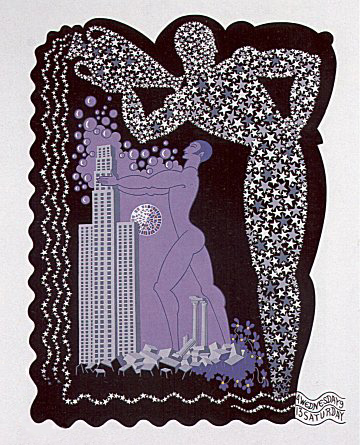 AQUARIUS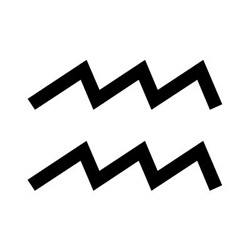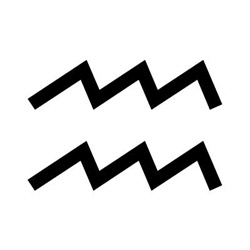 ▪️▪️▪️

"Water of life am I, poured forth for a thirsty world."
The constellation Aquarius is one of supreme importance to our solar system at this time, for it is the sign into which our sun is rapidly moving ~ and with each passing decade its influence gains momentum and potency. It is largely related to the changes now taking place in our world, particularly towards group consciousness, focus and service.
And because it is an air sign, its influence is all pervasive and inter-penetrating.
***
Our earth will fully enter the 2300-year cycle known as the Aquarian Age in the next few hundred years, and meanwhile we've begun to feel this new age approaching, heralding illumination and the establishment of order upon our home planet. Aquarian illumination comes in the form of realizing humanity's essential unity and recognizing the processes of sharing and cooperation to assist all of humankind. Soul awareness developed in Capricorn becomes the working reality for the Water Bearer, and with these the true hallmarks of those aligned with Soul ~ group consciousness, selfless service and self-sacrifice.
***
Aquarius and Initiation
What is initiation? It is an achievement and an attained success of the soul which has at last succeeded in dominating the personality and in manifesting its true nature and character, despite the personality and the antagonism of the individual, intent upon their own purposes. It is literally the attainment of certain desired objectives, towards which the units of the spiritual kingdom in nature have been working for aeons, and expresses the end of the enforced task of sacrifice and planetary service.
For humans this achievement reaches its goal at the third initiation and from that time on the individual, liberated and free, serves from free choice and as a soul, conscious of intent and purpose upon the physical plane."
VIA: SOULEDOUT.ORG // CLICK HERE TO READ MORE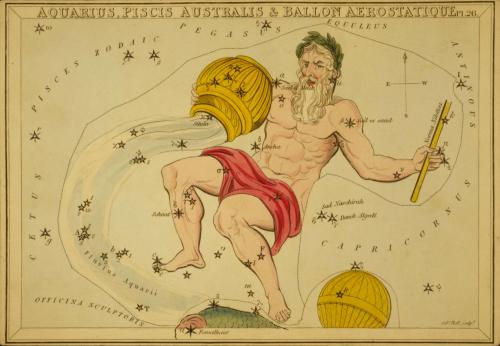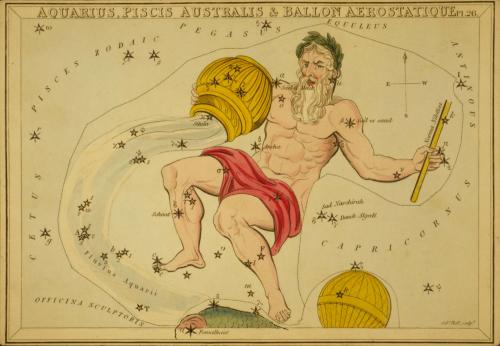 "Aquarius, being an air sign, demonstrates some of the general air tendencies which include being flexible, versatile and aspiring. A strong desire for sociability and harmony while maintaining a balanced and detached perspective also become natural characteristics of Aquarius. Further, Aquarius demonstrates an objectivity and liveliness of mind through thinking in abstract forms. All these characteristics are expressed through Aquarius's (and the other air signs of Gemini and Libra) general tendency to be highly communicative, friendly and agreeable.
***
The Archetype of the Waterbearer helps us to differentiate how Aquarius's influence differs from the other air signs. First, Aquarius expresses in a powerful, magnetic and opinionated way. Aquarius conditions us to be free-spirited, spontaneous and future oriented. Highly freedom loving and nonconformist Aquarius conditions us to be the "rebel Angel" tearing down old models, tossing out old concepts for an unconventional, inventive and original idealistic philosophy for the future. This comes from the impetus to find Truth."

BASIC SOUL PURPOSES: 
An AQUARIUS INCARNATION is one in which he is to be the "Waterbearer" to humanity.  AQUARIUS' goal is the figurative "baptizing" of others with his philosophy of life.  When the traveler reaches AQUARIUS, the meaning, beauty, and function of the group becomes increasingly apparent.  Life is led as a conscious service to humanity and to "Those Who Also Serve."
The AQUARIUS/LEO POLARITIES work together to bring about a positive regulation of energy flow within the physical body. Achieving a balance between the qualities of AQUARIUS and LEO, thereby transforming negative habit patterns, will assist in maintaining good health. 
AQUARIUS is to be the Angel Waterbearer to the whole of humanity.
          QUALITY TO OVERCOME:  Cool, impersonal approach.
          LESSON TO LEARN: A positive balance in the expression of Saturn & Uranus in his lifestyle, right human relations.
         MOTIVATED BY:  The urge to serve.
▪️▪️▪️
Once we enter the energies of Aquarius, something wonderful takes place on the esoteric level.  Standing behind the Water Bearer is its esoteric ruler, Jupiter, Lord of the Second Ray of Love/Wisdom. Jupiter is the governing force behind the New Age operating through Uranus on the personality level. Uranus inspires the invention of all of our modern tools of technology. But what is the purpose of all of these methods of communication? It is to bring about a united humanity so that the soul energy of Love and Wisdom can come through into our individual and collective consciousness. So it is that the soul-centered Aquarian is at work networking humanity for its own good and benefit.
ALAN OKEN ~ PLANETARY CONSCIOUSNESS
▪️▪️▪️
IN POST ART::
CAPRICORNUS CONSTELLATION IMAGE COURTESY OF OLD BOOK ART IMAGE GALLERY
▪️▪️▪️
©Tessa Ridley/Self Care is Sacred. All Rights Reserved. 2016.
THIS BLOG HAS BEEN LOVINGLY CURATED BY Tessa Ridley
All work/words that are not my own have been quoted and referenced and linked back their source with utmost respect for their authors. If you are the author/artist & there is any content or are any images that are featured here that you do not want displayed please email me & I will promptly remove them.
* Terms and Conditions: Please note that none of the information presented within these blogs & guidance sessions is meant to replace advice from a medical, healthcare, legal and/or other professional. How you choose to act upon the advice given is entirely based on your own free will. You may use this information for educational and non-commercial reasons, in parts, or in entirety with full credit given to the authors as noted and links to her webpage (WWW.BOUNDARIESAREBEAUTIFUL.COM). The author shall not be held liable from any intentional, accidental or other consequences of acting upon, sharing, or engaging with this information in any form. Using, reading or in any way engaging with any part of this information implies tacit acceptance of these Terms and Conditions.