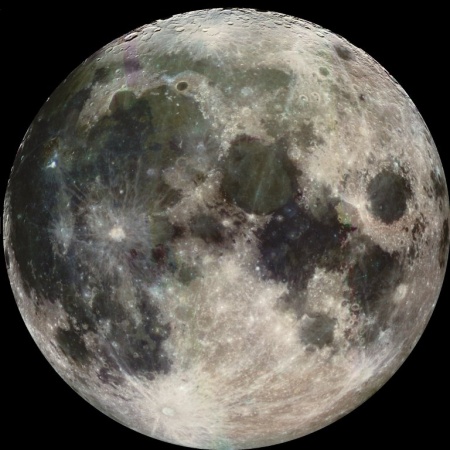 25 Apr

LUNAR ASTROLOGY RESOURCE :: GET TO KNOW YOUR MOON!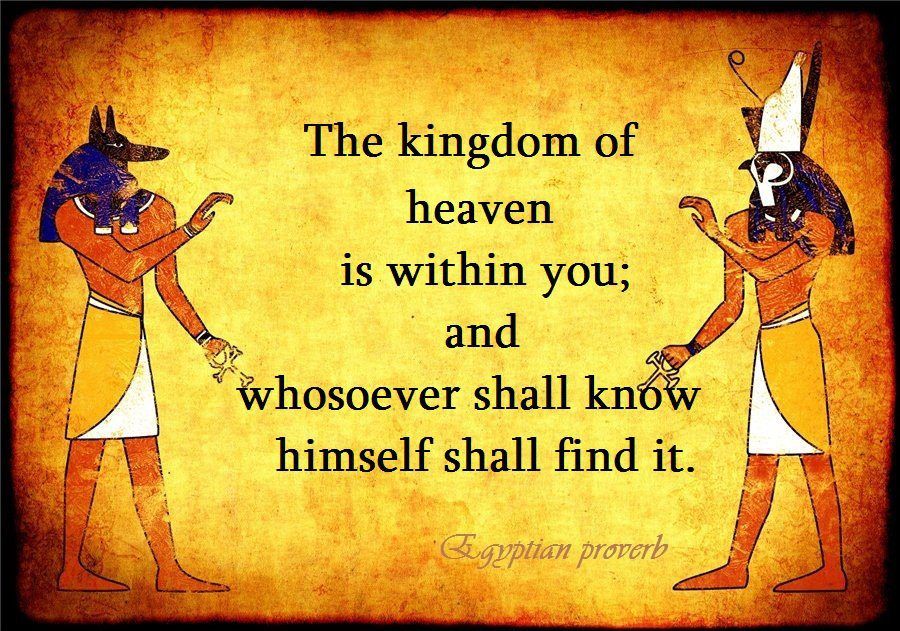 "The peoples of the past left us clues to help us find our place in this cosmos. A reality in which man is not against nature but instead an intimate part of the beauty of its cycles and workings. By using every faculty we have at our disposal, utilizing every tool in our chest, by becoming explorers of the mind and warriors of the heart, we can carve a new path out of the darkness of the woods and into the clearing of pure spirit. The heroes, saints, magis, philosophers and sages of past reminded us that it is our rightful place on this pyramid of existence."
____
"Next to the Sun, the Moon is the most important body in the Birth Chart: the characteristics of the sign it occupies from an integral part of the personality.
These have a direct bearing on habits and reactions in a given environment and on a person's instinctive behavior.
Characteristics inherited from past generations are related to the Moon and it's position.
ASSOCIATIONS:
The Moon is associated with birth, mother-hood; the digestive system, stomach & breasts; the sympathetic nervous system,
body fluids, nutrition, emotional disturbance and personal habits; the home, family, ancestors; response, the memory."
~Derek & Julia Parker via: THE NEW COMPLEAT ASTROLOGER
____
>>CLICK HERE TO ACCESS YOUR BIRTH CHART FOR FREE!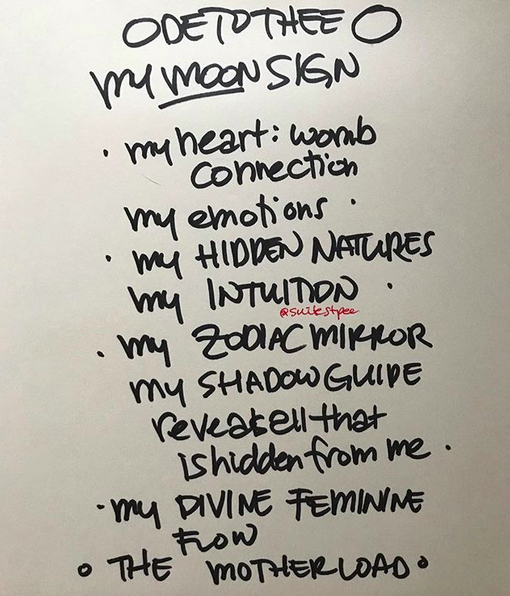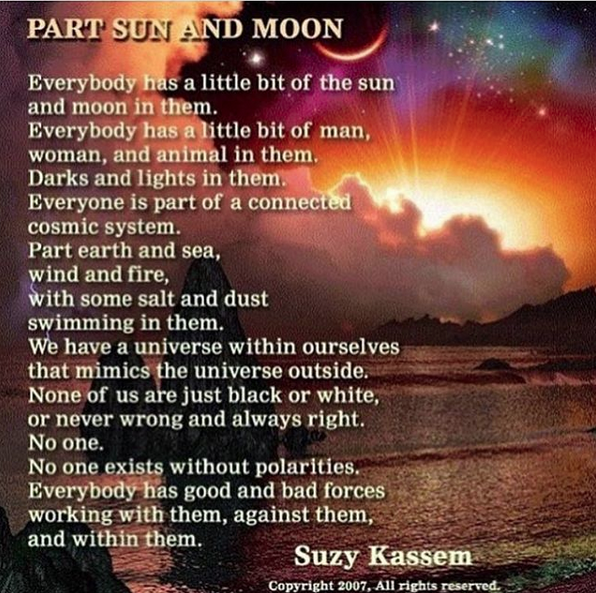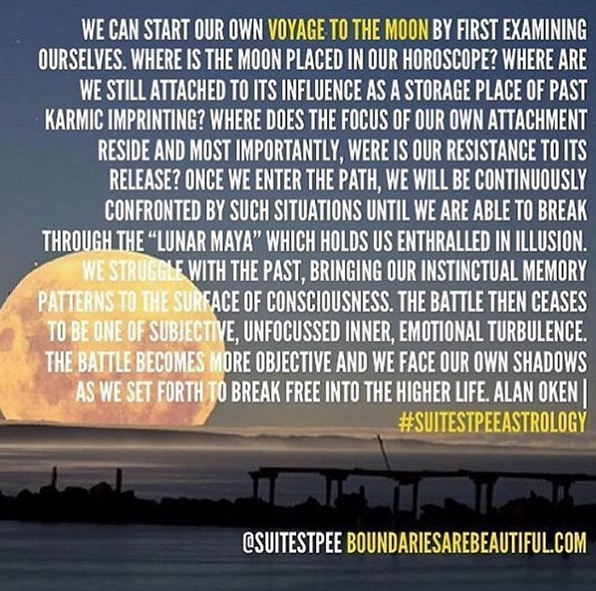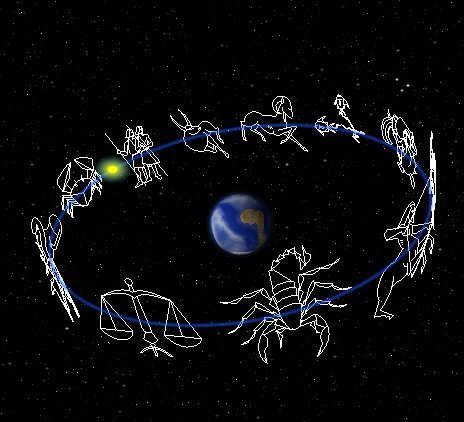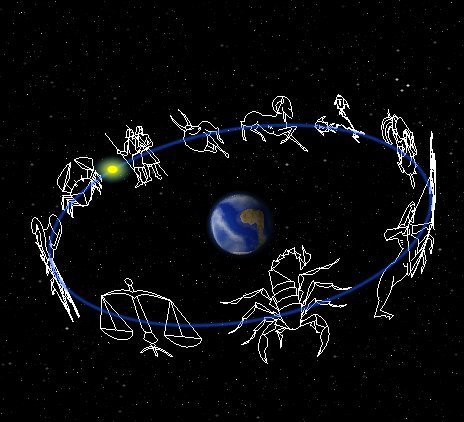 WE ARE ALL WOMBMAN. BORN OF THE WOMB.
WE ARE ANCIENT SOULS LIVING IN WATER LIGHT MEAT BODIES THAT ARE DIVINELY LINKED TO THE STARS ABOVE.
LUNA IS OUR CLOSEST PLANETARY ALLY & STRONGLY INFLUENCES OUR EMOTIONS & PSYCHE,
JUST AS SHE RULES TIDES OF THE OCEANS ON THE EARTH.
JUST THINK ABOUT YOUR OWN INNER OCEAN WITHIN.
THE WELL OF YOUR DEEPEST EMOTIONAL UNDERSTANDING OF YOURSELF.
THE CORE // ROOT OF YOUR HUMAN/SPIRIT CONNECTION.
EMOTION IS A SPIRITUAL EXPERIENCE.
ENERGY IN MOTION THAT CAN BE STIMULATED BY SOMETHING AS SIMPLE AS A FAMILIAR SMELL ON THE WIND.
LEARNING MORE ABOUT THE MOON AND HOW SHE HELPS TO MIRROR OUR BODY MIND SOUL MOOD DAILY HAS TRANSFORMED MY LIFE.
IT IS UNDENIABLE ONCE YOU BEGIN TO WALK WITH THE MOON.
HAVE A CONVERSATION WITH HER.
THE DIVINE UNIVERSAL LAW OF GRAVITY IS OUR ENERGETIC BOND — WE ARE IN TUNE — HEART TO HEART.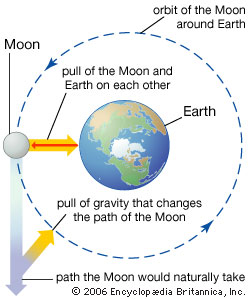 THE MOON TRANSITS EACH ZODIAC SIGN EVERY 2.5 DAYS.
EVERY SIGN'S ENERGY LIGHTS UP WITHIN THE HEART OF OF THE HUMYN BODY AS SHE MAKES HER WAY THROUGH THE ZODIAC.
OUR INTUITION & HEART CORE IS DIRECTLY LINKED TO EVERY STAR AND EVERY PLANET / AS ABOVE | SO BELOW. 
YOU ARE SO MUCH MORE THAN YOUR SUN SIGN!
YOU HAVE A WHOLE SOLAR SYSTEM IN YOU!
YOU ARE A LIVING STAR.

YOU ARE A LIVING MOON.
YOU HAVE MERCURY IN YOUR THROAT.
YOU HAVE VENUS IN YOUR BONES.
AND MARS IN YOUR FISTS.
YOU ARE A WALKING UNIVERSE DEAR WOMBMAN.
WE ARE ALL WOMBMAN! BORNE OF THE WOMB.
WE ARE ALL ONE…
BUT WE ARE WHOLLY UNIQUE.
WE ARE INCREDIBLE HUMAN ORGANISMS AND OUR BIRTH CHART CONFIGURATION CREATES A ONE OF A KIND UNIVERSAL EXPRESSION THAT IS YOU!
THERE WILL BE NO THING LIKE YOU //
NO HUMYN WILL EVER COME CLOSE TO THE TRUTH OF WHO YOU ARE.
AND YOU HAVE COME TO THIS EARTH TO LEARN ABOUT WHO YOU REALLY ARE & LEARN TO SHARE YOUR GIFTS WITH THE WORLD!

YOU ARE SO SPECIAL.

FOLLOWING THE MOON IS THE EASIEST WAY TO CONNECT WITH UNIVERSAL ENERGY EVERY SINGLE DAY.
TO CONNECT WITH THE UNIVERSAL SOURCE OF ALL CREATION…
TO SEE HER GROW AND RISE AND FALL AND HIDE AWAY IN HER SHADOWS…
WILL REVEAL SO MUCH TO YOU ABOUT YOURSELF.
OPEN YOUR HEART TO REMAINING CURIOUS.
NO JUDGMENT. JUST INTEREST IN LEARNING SOMETHING NEW EVERYDAY.

THIS IS THE REAL NEWS DAY TO DAY.
THE UNIVERSAL ENERGIES ABOUND CAN BECOME OUR GUIDES.

DO YOU DESIRE TO EMBRACE YOUR LIFE & JOIN THE DANCE OF NATURE?
OR WILL YOU RESIST & CONTINUE TO THINK THINGS ARE "JUST HAPPENING TO YOU".
KNOW THAT EVERYTHING IS PURPOSEFUL & ON TIME.
ALWAYS. IN ALL WAYS.
WHEN YOU BEGIN TO FOLLOW THE LUNAR CYCLE DAILY THE TRUE ONENESS OF THE UNIVERSE IS REVEALED TO YOUR BODY, MIND & EMOTIONS.
THE LUNAR CYCLE CAN ACT AS YOUR GATEWAY TO YOUR EVOLUTION AS A SPIRIT LIVING IN HUMAN BODY.
BEGIN TO NOTICE HOW YOU REALLY FEEL.
LET THE MOON GUIDE THEE.
AS ABOVE / SO BELOW.
LEARN MORE ABOUT THE POWER OF THE MOON ON MY LUNAR MAGICK RESOURCE BLOGS //
SELF KNOWLEDGE IS FREE!::
LEARN ABOUT YOUR MOON SIGN, LUNAR MAGICK, RITUAL & MANTRA!
+
+
BECOME YOUR OWN COSMIC SEEKER! WE ARE AWAKENING AS SPIRIT IN BODY & THE MOON IS OUR GREATEST ALLY! AS ABOVE SO BELOW! ??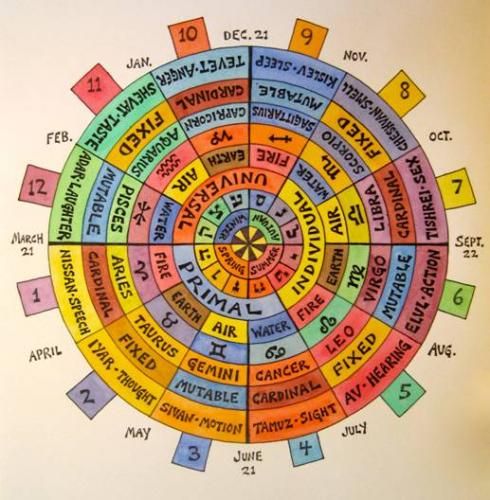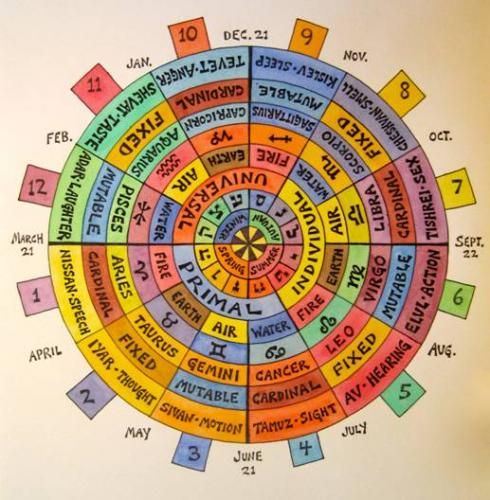 KOSMIC KABBALAH ART BY: DAVID FRIEDMAN
THE EARTH HERSELF, AS WELL AS ALL LIFE ON HER ARE RECEIVERS FOR UNIVERSAL SOURCE ENERGY.
HOW WE TRANSMUTE THE ENERGY IS UP TO US.
THE MOON CAN WAKE YOU UP OUT OF YOUR EMOTIONAL DEPRESSION AND THE STRUGGLE TO LOVE YOURSELF.
THERE IS AN ANCIENT BEING INSIDE EACH OF OUR HUMAN HEARTS.
THE MOTHER OF YOUR SOUL. THE DIVINE FEMININE.

YOUR INNER MOON.
AND SHE IS BECKONING WITH A SOFT CALLING.
TO RISE INTO YOUR VESSEL. TO MONITOR YOUR OWN INDIVIDUAL HEART COMPASS. TO NURTURE THE CHILD IN YOUR HEART CORE INTO THE LIGHT OF BEING.
THE MOON REMINDS US OF OUR ONENESS WITH ALL OF NATURE.
THE MOON ASKS US TO HONOR OURSELVES AS ONE WITH THE WHOLE OF CREATION.
PUSH AND PULL.
THE TIDE OF OUR CELESTIAL WATER BODY ROLLS IN WAVES.
WE ARE WALKING OCEANS AS OUR TISSUES ARE ALMOST 80% WATER AND WE NATURALLY RESPOND TO ANY VIBRATIONAL ENERGETIC CHANGE WITHIN OUR ENVIRONMENT. WHETHER IT IS SOMEONE WHO UPLIFTS OR DRAINS YOUR ENERGY WITHOUT EVEN SAYING A WORD, WHAT MAKES YOU THINK THIS AMAZING BEING THAT DANCES WITH THE EARTH COULDN'T INFLUENCE YOU?

WE ARE LIVING ENERGY IN MOTION.
SENSORY BEINGS WHO EXPRESS IN E-MOTION.
WE ARE A POWERFUL NEURO-CIRCUITRY WITH INCREDIBLE ABILITIES.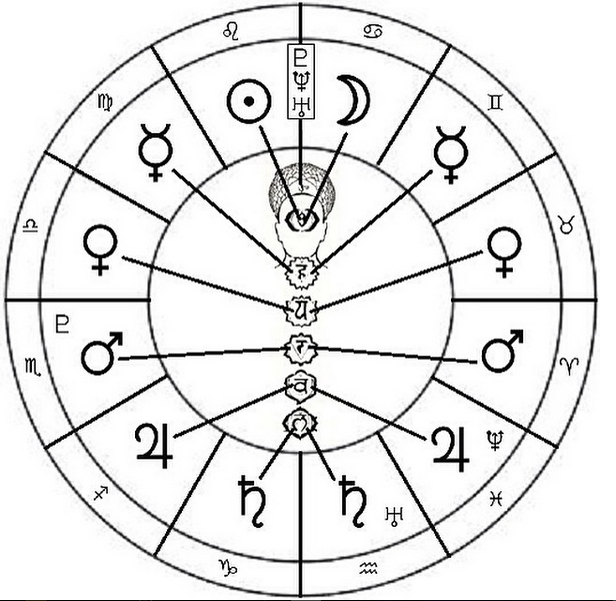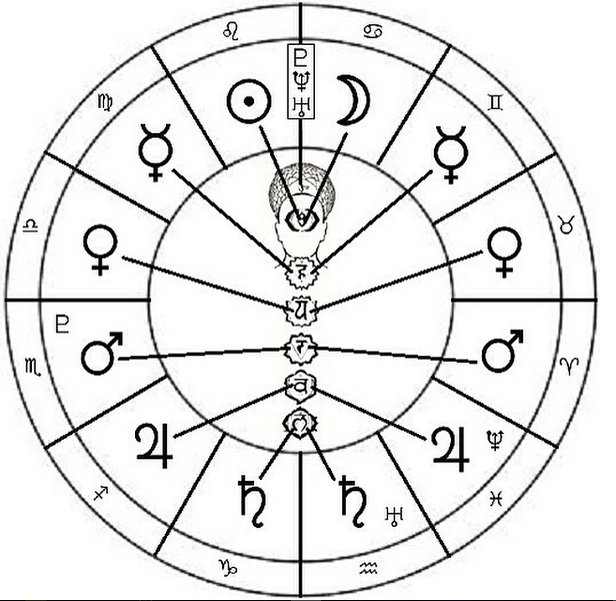 ▪️▪️▪️
Astrological Moon Phases By TheWhiteGoddess.co.uk
▪️▪️▪️
The Moon's Transits through the Signs By CafeAstrology.com
▪️▪️▪️
The Moon Through the Zodiac | Following the Lunar Waves
▪️▪️▪️
▪️▪️▪️
JOIN THESE AMAZING TEACHERS/ASTROLOGERS/WAY SHOWERS WORLD WIDE DAILY &
MONITOR YOUR ENERGY FIELD WITH SELF AWARENESS!
THESE HUMYNS HAVE TRANSFORMED MY LIFE WITH THEIR PERSISTENT DESIRE TO SHARE THEIR PERCEPTION OF UNIVERSAL SOURCE ENERGY.
Teri Parsely Starnes at STARSDANCEASTROLOGY.COM
▪️▪️▪️
▪️▪️▪️
▪️▪️▪️
Tanishka Tantrika | THE MOON WOMAN |at THEMOONWOMAN.COM
▪️▪️▪️
Sky Priestess Bairavee Balasubramaniam
 ▪️▪️▪️
Leah Whitehorse at LUAASTROLOGY.COM
▪️▪️▪️

Katie Sweetman at EMPOWERINGASTROLOGY.COM
▪️▪️▪️
Henry Seltzer at ASTROGRAPH.COM
▪️▪️▪️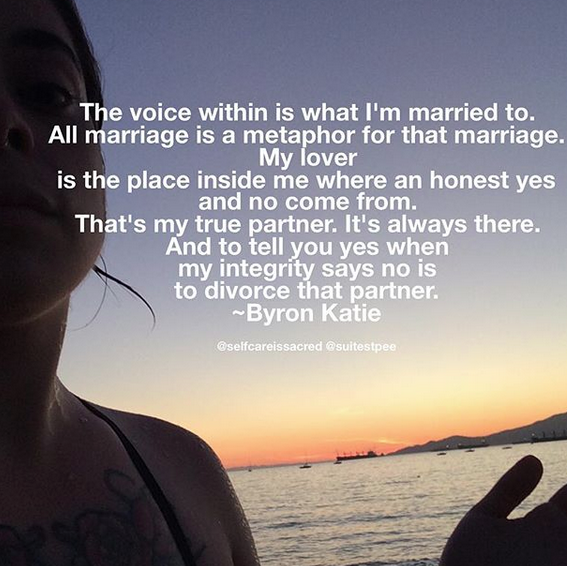 THE STARS FOREVER SING THE MESSAGE OF EVER LASTING PEACE.
THE STARS REMIND US TO HONOR THE DIVINE FEMININE ENERGIES THAT ARE LAYING DORMANT DEEP INSIDE OUR HUMAN BODY.
THE EARTH IS FEMININE ENERGY. SHE IS OUR MOTHER.

THE MOON IS  FEMININE ENERGY. SHE ENCOURAGES OUR EMOTIONAL GROWTH & HEALING.
ALL HUMYNS ARE WOMBMEN AND ALL WOMBMEN HAVE THE ABILITY TO HARNESS THEIR TRUE NATURE:
OPEN, UNDERSTANDING, CURIOUS, NOURISHING, INFINITELY CAPABLE. PEACEFUL.
MAY OUR FIRES THAT RAGE WITHIN FIND SPACE TO BREATHE IN THE OPEN AIR.
NO MORE DENYING THE BURN.
LET IT FLOW.
LEARN TO WITNESS YOUR STRONG EMOTION aka ENERGIES IN MOTION >>
RATHER THAN PROJECTING IT ONTO OTHERS.
FOLLOW THE FIRE TO ITS ROOT SOURCE.
LET THE MOON TEACH YOU ABOUT YOUR PAST, PRESENT & FUTURE.
LET THE MOON TEACH YOU ABOUT FEELINGS.
LET THE MOON BE YOUR GUIDE ALL DAY EVERY DAY.

AFFIRM ~~
I AM A FEELING BEING WHO THINKS.
BY LEARNING MORE ABOUT MY DIVINE MOON SIGN
I UNLOCK ANCIENT KEYS & CODES WITHIN MY DNA BLUEPRINT.
I AM AWAKENING TO MY AMAZING HUMAN CAPACITY FOR CREATIVITY & TRANSFORMATION.
THE MOON GODDESS IS ONE OF MY GREATEST ALLIES.
FOREVERMORE.
I KNOW I AM NEVER ALONE.
FOR YOU ARE WITH ME.
 
 ____
"Astrology is not a predictor.
Astrology indicates trends, cycles, and energy.
How you respond to these trends, energies, and cycles
will depend on where you are in your evolutionary journey.
Perception is the key.
Growth is the purpose"
– Nefertiti
____
CLICK>>Explore the LUNAR CYCLE WITH STARSDANCE ASTROLOGY
_____
Astrologers divide the lunar month into 8 phases.
These are:
_____
CLICK>>GETTING CLOSER TO THE ASTROLOGICAL MOON PHASES |

____

MOON MIND MAGICK
CLICK HERE TO EXPLORE POWERFUL MENTAL HEALTH CONCEPTS
____

"Your mind is active all day long. Thousands of thoughts pass through you on a daily basis like a meandering river winding across a floodplain. Most of these thoughts are scattered, undifferentiated and noisy. Since your thoughts are the energy that you act upon and given that energy follows the attention you give something, it is important to examine those thoughts. How many of them are negative? "There will probably be NO place to park"; "With my luck it will never work out"; "I've not prepared enough"; "If only I had more time"… The list is endless. Moreover, are your thoughts influenced by some external factor – like your parents; your culture; your gender; your age; your education? Do those thoughts originate from a positive and conscious place? What purpose are they serving you? Do they match with your personal philosophy, or are they deeply etched into your soul?

[It] would be useful to pause and reflect upon the nature of the persistent thoughts that underlie your actions. Are they YOUR thoughts or are they someone else's? Perhaps you can start with the negative thought forms such as I'm not good enough; I'm not worthy; I'm too busy; I should/ I could/ I ought to. Those thoughts create their own reality and since we reside within a world that will eagerly support those lower vibrational entities, it is not hard to see how virulent those negating concepts are within each of us. Those thoughts are encouraged because they keep you trapped and keep you conformed within a consensus reality.

Given that you perceive with your mind, you don't see with your eyes, by freeing your mind, choosing wisely who you read, listen to and being mindful of the intention underlying what you speak, you take the first step in creating a more conscious reality.
Imagine what your world would be like if you stripped away the layers of external thought forms that influence your reality and focused only on what you truly think and believe!  [H]old fast to your dreams and listen to your inner voice, as they are the seedlings of your reality. Access the courage and strength that surges through your veins, after all you know what the right thing to do is and let this moment be the ground from which all of your future actions and intentions manifest. I would love you to take the time to reflect on some of the following questions:
>What ideals have molded and shaped your mind?
>Who has molded and shaped your mind?
>What are the underlying scripts that have shaped and influenced your thoughts?
>What idea or ideal do you want to infuse into your very being? If you want to tune into your body awareness and intuition concerning the nature of those persistent ideas feel free to do so, as your own intelligence will guide you as to what you need to centre yourself on this coming month.
VIA: COSMIC INTELLIGENCE AGENCY

____
❤️CLICK>>LEARN TO TRANSFORM YOUR MIND WITH YOUR MIND! BECOME A MENTAL ALCHEMIST!

▪️▪️▪️

❤️CLICK>>LEARN TO DIFFERENTIATE BETWEEN THE EGO & YOUR SPIRIT WITHIN!

▪️▪️▪️

❤️CLICK>>ACCESS MY RADICAL SELF CARE RESOURCES & MY YOUTUBE CHANNEL HEALING PLAYLISTS!
THERE ARE INFINITE WAYS TO SHOW YOURSELF LOVE!
▪️▪️▪️
CLICK HERE TO ACCESS MY ASTROLOGY & SPIRITUALITY BLOG ON INSTAGRAM
+
#SUITESTPEEASTROLOGY ON INSTAGRAM
+
#SUITESTPEEASTROLOGY ON FACEBOOK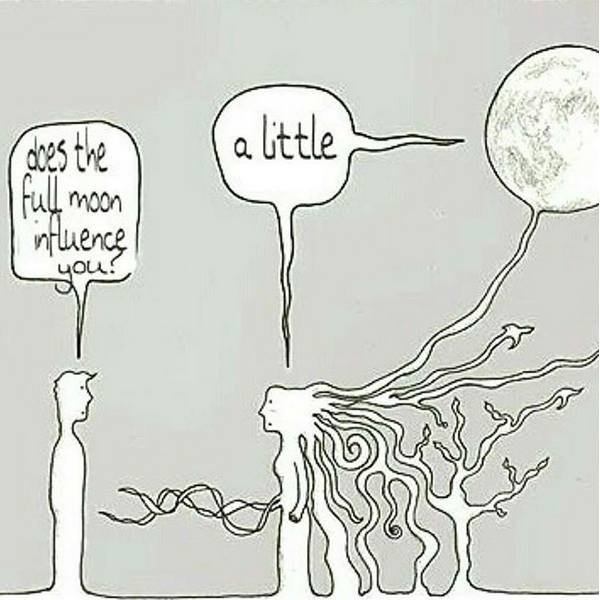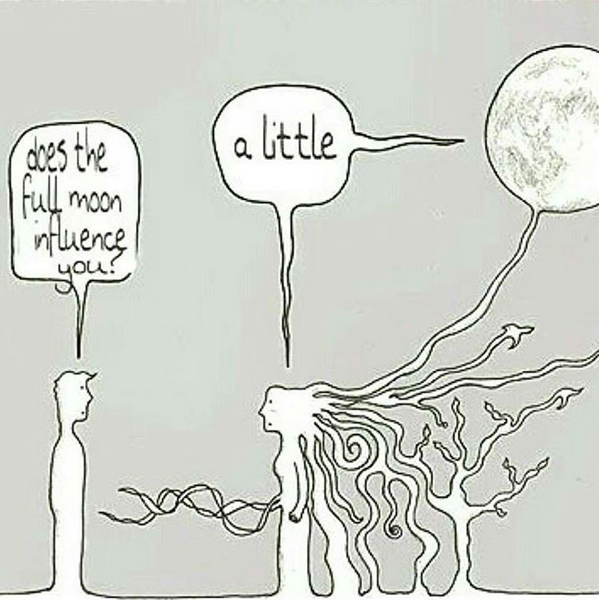 ____
IN POST ARTWORK!!!
____
FULL MOON COMIC BY @contodorespetocomic
+
IN POST MOON PHOTOS VIA NASA'S ROYALTY FREE RESOURCES
+
KOSMIC KABBALAH ART BY: DAVID FRIEDMAN
+
+
COSMIC CREATIONS LUNAR ARTWORK BY JOE DUBS
▪️▪️▪️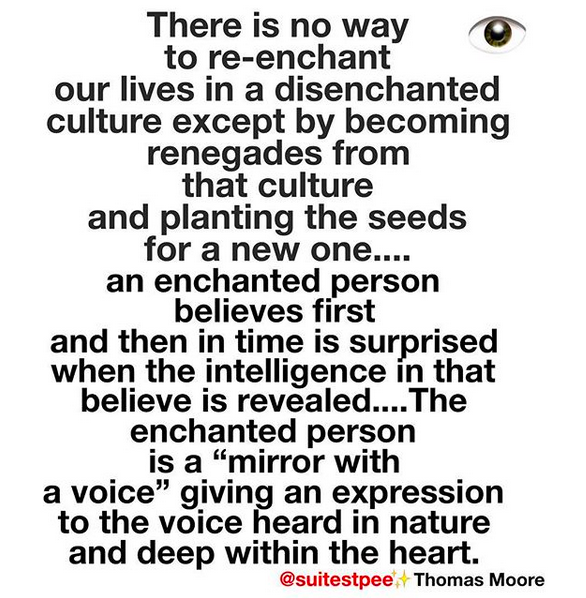 ©Tessa Ridley/Self Care is Sacred. All Rights Reserved. 2016-2020.
THIS BLOG HAS BEEN LOVINGLY CURATED BY Tessa Ridley
All work/words that are not my own have been quoted and referenced and linked back their source with utmost respect for their authors. If you are the author/artist & there is any content or are any images that are featured here that you do not want displayed please email me & I will promptly remove them.
* Terms and Conditions: Please note that none of the information presented within these blogs & guidance sessions is meant to replace advice from a medical, healthcare, legal and/or other professional. How you choose to act upon the advice given is entirely based on your own free will. You may use this information for educational and non-commercial reasons, in parts, or in entirety with full credit given to the authors as noted and links to her webpage (WWW.BOUNDARIESAREBEAUTIFUL.COM). The author shall not be held liable from any intentional, accidental or other consequences of acting upon, sharing, or engaging with this information in any form. Using, reading or in any way engaging with any part of this information implies tacit acceptance of these Terms and Conditions.